SolarWinds Renewal Services
Maximise your SolarWinds investment with a complimentary layer of value-added benefits with Prosperon's SolarWinds Renewal Services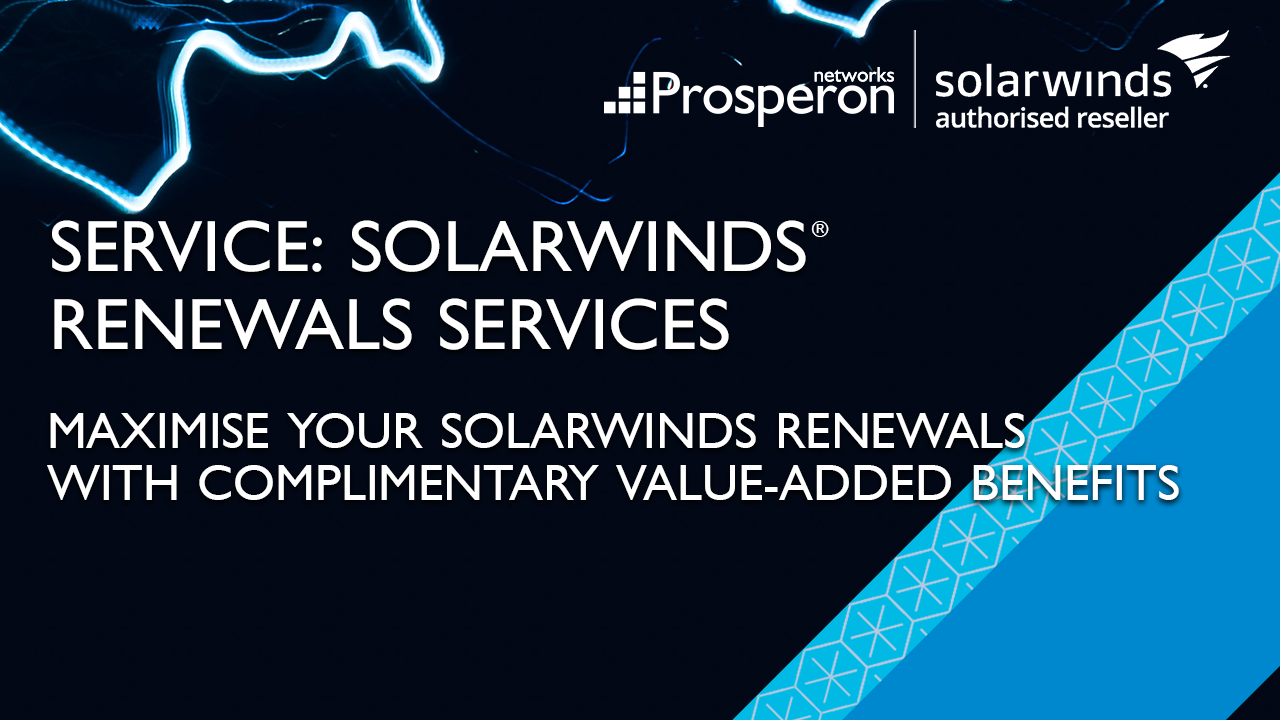 SolarWinds Renewal Services
Prosperon's Renewal Services are designed to help customers get more value out of their investment in SolarWinds®. By renewing your licenses with Prosperon, you get additional benefits on top of what SolarWinds provide through the renewal process – at no extra cost.
Customers get access to our UK-based Technical Support team to resolve critical issues fast. Your platforms performance is reviewed annually through our SolarWinds HealthCheck Services. Remote training is provided annually to ensure you are up-to-date with new developments. You also have access to a dedicated Account Manager and Customer Services team to help with all your SolarWinds related needs.
Additional benefits for our customers
Supporting You Throughout Your Journey With Value-added Benefits For SolarWinds
You may need to raise support tickets to fix technical issues with your platform from time to time. Customers that renew their SolarWinds licenses through Prosperon get access to our expert UK-based support team. Our Engineers can respond to and resolve support tickets quickly and efficiently. In many cases, we will better understand your SolarWinds platform if Prosperon delivers the initial installation and customisation work.
To ensure your platform is operating at maximum efficiency and you're making the best use of new features, we undertake a comprehensive health check review on your platform to identify areas of improvement.
Spend Less Time Chasing Up Support Cases
Raise 1st and 2nd line support tickets directly with our SolarWinds certified UK-based support team, who can rapidly resolve your issues and provide expert advice.
Keep SolarWinds Healthy & Running Smoothly
Ensure SolarWinds is performing at optimum levels, and you're utilising the platform to the best of its capabilities, with an annual complimentary health check review.
Keep Up-to-date On New Products & Features
Receive a 2-hour remote training session annually to stay on top of new developments within SolarWinds or give new staff an overview of the platform and core features.
A Dedicated Team For All Your SolarWinds Needs
Prosperon have a dedicated Account Management team to ensure you are getting the most out of SolarWinds and a Customer Services team to deal with license renewals.
Helping To Ensure That You're Getting The Most Out Of Your Investment In SolarWinds
SolarWinds are known for updating their products frequently with new features. Prosperon offers 2 hours of remote training every year to customers to ensure that you're using these new features; this is particularly useful for introducing anyone new to SolarWinds Orion.
A dedicated Account Manager is given to every customer. They are here to understand your need and advise how best to utilise SolarWinds. Account Managers can also support you with license upgrades and the purchase of additional modules. Our Customer Services team is also here to make renewing your SolarWinds licenses as painless and straightforward as possible.
Complimentary Value-Added Benefits
Additional benefits you receive with Prosperon's SolarWinds renewal services

Enhanced Technical Support
Resolve issues faster with Prosperon's 1st and 2nd line SolarWinds technical support, delivered by our experienced technical team located in the United Kingdom.
Free Annual Health Check Review
Review the health of your SolarWinds platform to ensure it is performing optimally, installed correctly, provisioned correctly, and is configured to meet your requirements.

Annual Remote Training Session
Keep up-to-date with new SolarWinds developments, or introduce new staff to SolarWinds Orion and core features, with 2 hours of annual remote training.

VIP Ticket Service For Support Cases
Get your critical support tickets expedited to SolarWinds, using Prosperon's long-standing partnership with SolarWinds to get your support cases resolved faster.

Dedicated Account Manager
Every customer has a dedicated Account Manager at Prosperon to ensure you're getting everything you need from the SolarWinds products you have.

Dedicated Customer Service Team
Prosperon have a dedicated customer services team to support SolarWinds customers with license renewals and any enquiries related to SolarWinds licenses.

Prosperon Networks are the UK's leading provider of SolarWinds IT management solutions and services. We have been an Authorised SolarWinds Partner for over 14 years, and all of our Engineers are SolarWinds Certified Professionals (SCP). Over this time we have provided consulting, support, and training services to hundreds of SolarWinds customers across the UK and Europe.
Frequently Asked Questions
Can't find the answer to your questions? Why don't you give us a call and our helpful Account Managers will answer any question you have.
Does renewing with Prosperon affect what SolarWinds provide directly?
Not at all. Prosperon's value-added benefits are provided on top of what SolarWinds provide. You can read more about what SolarWinds provide here.
Can I still open a support ticket directly with SolarWinds if I wish to?
Yes, you can. However, if you include us in your messaging to the vendor we can very quickly address and assist in resolving support cases efficiently.
Can I get Prosperon's support if I purchased directly from SolarWinds?
Prosperon's support is complementary to SolarWinds customers that renew with us. However, it can be purchased if you purchase directly from SolarWinds.
Do you provide these services to other SolarWinds partners?
Yes, we can make our support services available to SolarWinds partners/resellers, to meet the requirements of their customers.