SolarWinds Integration Services
Integrate SolarWinds with your other IT Monitoring and Management tools.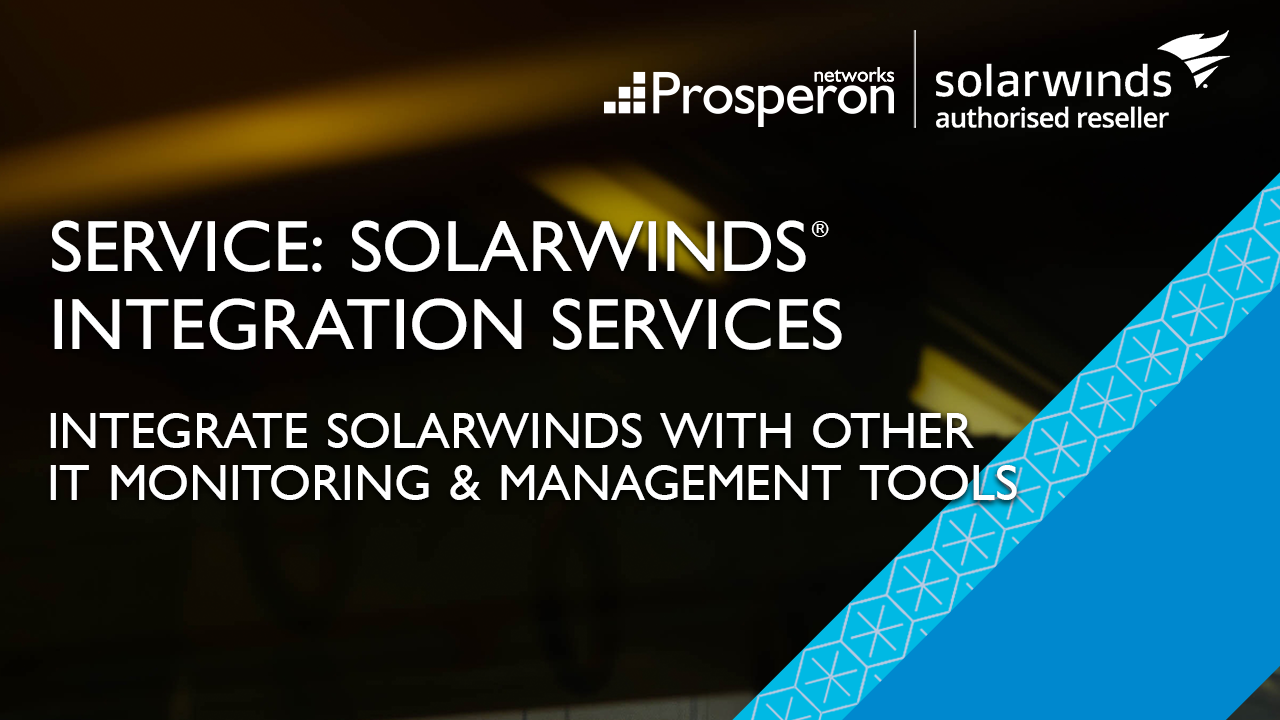 SolarWinds Integration Services
Prosperon's Integration Services are designed to maximise the efficiency and power of SolarWinds® by integrating the platform with other IT Monitoring and Management tools utilised by your organisation.
Good integrations can bring disparate IT teams together, to help resolve issues faster than if they remained siloed, having to access information data across multiple tools. Our expert integration engineers can go beyond basic in-built integrations by harnessing the power of the SolarWinds open API. Commonly asked for integrations include: IT Service Management (ITSM), Alerting, Configuration Management, Security and Application Performance Management (APM) tools.
Integrate SolarWinds With Third-Party Tools
Accelerate Mean-Time-To-Recovering By Integrating SolarWinds With ITSM Solutions
Organisations use many different tools; each with their own interfaces and ways of handing events, alerts, etc. Getting these tools to work with each other can help resolve incidents faster and minimise downtimes.
Prosperon's engineers have a great track record of integrating tools such as ServiceNow® BMC Patrol®, and many other IT Service Management (ITSM) solutions. Helping to automate ticket creation and close cases faster. In addition to ITSM solutions, our Engineers are experienced using the SolarWinds API to integrate other Monitoring and IT Management tools that cannot be integrated with SolarWinds out of the box.
Accelerate Troubleshooting & Expand Visibility
Combine data and views from existing IT monitoring tools to get a complete picture of your environment; with all data displayed in SolarWinds to resolve issues faster.
Resolve Tickets Faster With Service Desk Integration
Assist in service desk operations using alerting and automated functions to improve communications, and resolve tickets efficiently and in a timely manner.
Breakdown Silos & Encourage Teams To Work Together
Encourages teams to work together to rectifying issues rather than taking a siloed approach, which can cause miscommunication and delays to positive outcomes.
Improve The Infrastructure Running Your Applications
Create a more efficient and stable IT infrastructure for your critical applications by getting complete visibility into your operations and resolve IT problems faster.
Integrate SolarWinds With All Of Your IT Monitoring & Management Tools
Integration can also include other IT Monitoring and Management tools used by the department. This puts more information within SolarWinds to help with troubleshooting, and shorten recovery times. It also allows staff members to continue using tools that they're comftable with.
Integrating solutions that do not have a default integration already within SolarWinds can be acheived using the SolarWinds API, and API's for each vendor's solution. Our Integration Engineers have extensive experiance working with the SolarWinds API, and helping customers by delivering custom integrations with SolarWinds and other third-party tools. 
SolarWinds Deployment Options
How can Prosperon help with your SolarWinds deployment?

CMDB Synchronisation
Synchronise Configuration Management Database (CMDB) data repositories with SolarWinds Orion, to easily maintain network device configurations and custom properties.

IT Service Management Integration
Utilise SolarWinds Orion alerts as triggers for your IT Service Management and ticketing tools like ServiceNow™ tools to respond to and resolve IT issues faster.

Extend Reporting with 3rd Party Tools
Utilise third-party business intelligence (BI) and reporting tools to enhance the reporting capabilities within SolarWinds Orion, to make data more visual and useable to you.

Integrate with SIEM Solutions
Get vital Security Incident and Event Management (SIEM) data within SolarWinds by integrating with third-party tools such as: Splunk, LogRhythm, ARCserve and more.

IT Automation Management
Automate repetitive and time consuming Network Management tasks by integrating with IT Automation Tools such as: NetBrain, Ansible, Puppet, Salt and Chef.

Rest API Custom Integrations
Use the SolarWinds API to integrate SolarWinds with any other IT Monitoring, IT Management, Ticketing, Security, or BI/Reporting tools that have an open API.

Prosperon Networks are the UK's leading provider of SolarWinds IT management solutions and services. We have been an Authorised SolarWinds Partner for over 14 years, and all of our Engineers are SolarWinds Certified Professionals (SCP). Over this time we have provided consulting, support, and training services to hundreds of SolarWinds customers across the UK and Europe.
Frequently Asked Questions
Can't find the answer to your questions? Why don't you give us a call and our helpful Account Managers will answer any question you have.
What types of applications can SolarWinds be integrate with?
SolarWinds can integrate with vendors that have open API's. Typically customers want to integrate with major Service Desk and other monitoring/management tools.
Do you provide full documentation on projects undertaken for customers?
Yes, to maintain our high quality levels there are a number of documents we provide both pre and post engagement; so that you have full visibility of our work.
Does SolarWinds integrate with any solutions straight out-of-the-box?
Yes, there are a number of default integrations provided out-of-the-box. But these are limited, and offer minimal advanced integration functionality.
Do you provide these services to other SolarWinds partners?
Yes, we have a dedicated channel team that work closely with SolarWinds partners/resellers, to meet the requirements of thier customers.