Training: User-Level Training course for SolarWinds Customers
Learn how to use SolarWinds as a proactive monitoring tool with user-level training.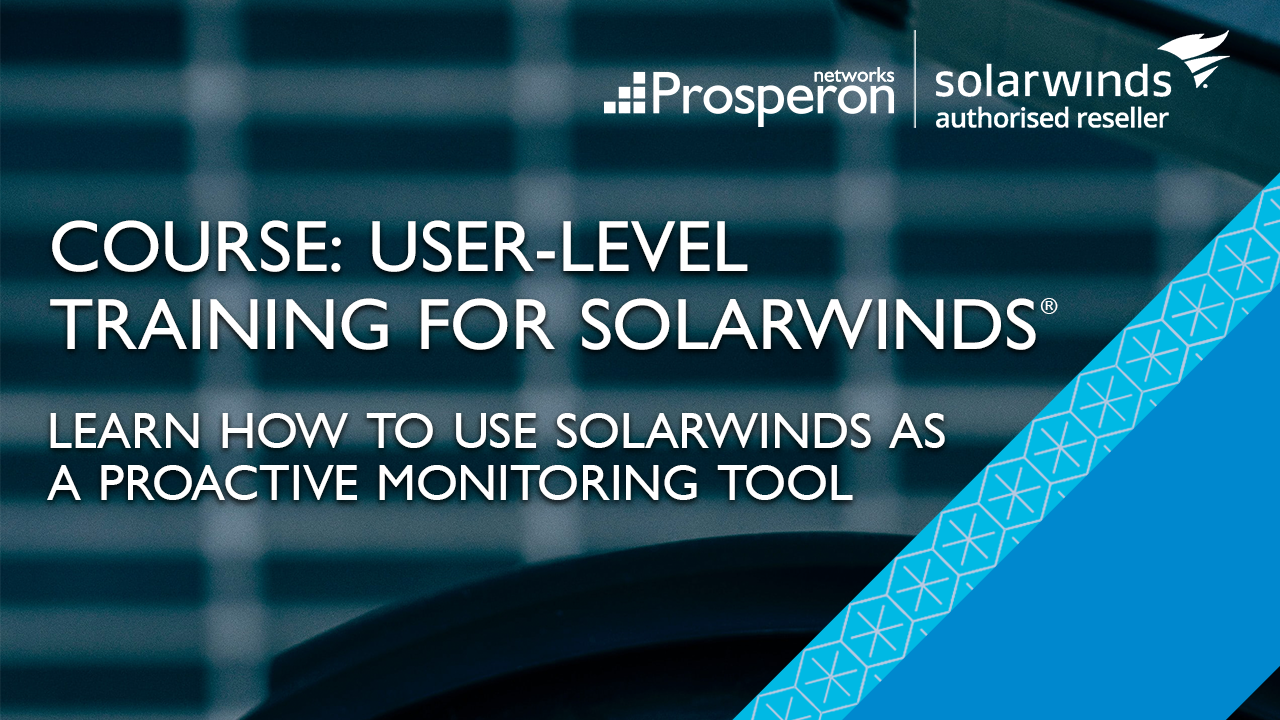 Overview of the User-level Course
The User-Level Course for SolarWinds® is specifically designed for day-to-day users of SolarWinds, rather than administrators. It provides detailed knowledge of how to use SolarWinds as a fully proactive monitoring tool.
This course covers all aspects of using SolarWinds, including in-depth overviews of the Orion Web Console, how to use dashboards, reports and alerts. You will learn how to access information, how to identify and troubleshoot issues, and understand the relationship between different modules. This course is ideal for employees who are new to SolarWinds, or if you have been using SolarWinds for a while but want to develop your understanding and explore how to get the most out of SolarWinds.
Upcoming Course Timetable
Get in touch with your Account Manager or Register on this page for more information. *The User-Level Training course for SolarWinds can also be delivered remotely, or in person at your premises.
Register Your Interest Now
What You Will Learn on the Course
User-Level Course for SolarWinds at a glance.
Customise SolarWinds To Your Requirements
Fully understand the capabilities of SolarWinds, and to use it to meet your organisation's true requirements.
Expert Knowledge & Best Practice Techniques
Learn how to customise SolarWinds the correct way, to get the information you need, without affecting performance.
Meet The Unique Needs Of Different User Profile Types
Understand the needs of different users (NOC, 2nd/3rd line engineers, Mgmt.), and how they use SolarWinds.
Maintain Performance & Ongoing Maintenance
Learn how to maintain the performance and ongoing maintenance of your platform to keep it running smoothly.

Prosperon Networks are the UK's leading provider of SolarWinds IT management solutions and services. We have been an Authorised SolarWinds Partner for over 14 years, and all of our Engineers are SolarWinds Certified Professionals (SCP). Over this time we have provided consulting, support, and training services to hundreds of SolarWinds customers across the UK and Europe.
Frequently Asked Questions
Can't find the answer to your questions? Why don't you give us a call and our helpful Account Managers will answer any question you have.
Can this course be deliver remotley or is this a classroom-based course?
Yes, this course can be delivered remotely, in addition to providing the training session onsite at your office, or at our training facility in Worthing, UK.
How long is this course and how many people from one company attend?
This is a 1 day course with facilities to comfortably include up to 12 people, however there is no attendee limit when the course is run on your premises.
Who should I put on the user-level training course for SolarWinds?
Generally, we would discuss the profile types of the users with you to ensure the content is right for them, we have other levels of courses available that might be more appropriate.
Do you provide these services to other SolarWinds partners?
Yes, we have a dedicated channel team that work closely with SolarWinds partners/resellers, to meet the requirements of their customers.