SolarWinds Proactive Maintenance Services
Keep your SolarWinds platform healthy, with Prosperon's proactive maintenance services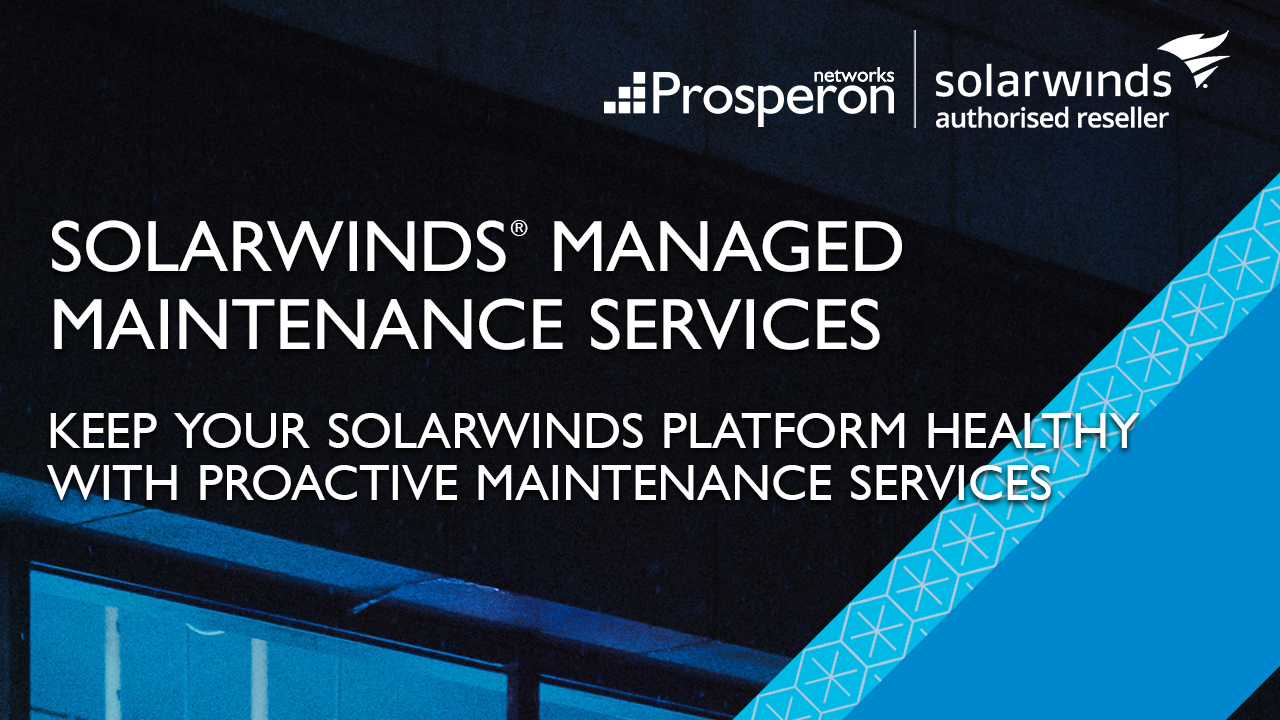 Proactive Maintenance Services Overview
Prosperon's SolarWinds Managed Maintenance Services are designed to keep your SolarWinds platform running healthy. For many organisations performing routine maintenance on your IT Management platform is an area often overlooked due to resource limitations or in-house skills. 
To ensure SolarWinds is delivering against your organisation's needs, we need to periodically review the platform to ensure it is in good health. Prosperon's Engineers have the knowledge and skills to do this on your behalf, with minimal involvement from yourselves. This gives you back time to get on with other equally important tasks, and the peace of mind of knowing that you SolarWinds platform is healthy and working for you.
Proactive SolarWinds Maintenance
Keep Your SolarWinds Solutions Running Healthily & Performing At Their Best
Every Month, Prosperon's Engineers review key health and performance areas of you SolarWinds platform. Our finding are reported back to you, along with our recommendations on how we plan to resolve issues; removing the hassle associated with day-to-day platform management. 
Our Engineers review the status of the SolarWinds Orion platform, checking all relevant registers, log files, and performance metrics – within both the application and the database, to ensure the ongoing health and functionality of your installation. Any faults or anomalies detected will be reported back to you, along with our recommendations as to how they can be resolved, to ensure your platform is running at its best.
Avoid Costly Monitoring Downtime & Data Gaps
Regular SolarWinds performance and maintenance reviews are conducted to identify gaps within the data captured; and to identify hardware performance issues.
Consistent Performance Of Your SolarWinds Platform
Make informed decisions about the overall health and performance of your IT environment, based-on a consistently performing IT Management platform.
Futureproof SolarWinds To Meet Growing Demands
Continuous review of new SolarWinds versions and product features; and collaboration on how to apply them to best meet your growing business requirements.
Justify Future Investment With Reliable Data Metrics
Use reliable data and metrics captured within SolarWinds to plan for future investments, increase buy-in from all stakeholders, and make it easier to justify future spending.
A Reliable SolarWinds Monitoring Platform Helps To Keep Your IT Environment Healthy
Regular reviews of your SolarWinds monitoring platform help maintain its consistency and contributes to the overall health and performance of your IT environment. IT departments need reliable data and metrics to effectively monitor IT infrastructure. So avoiding staleness in its operation and functionality is key to ensuring that you are getting valuable returns.  
The SolarWinds Proactive Maintenance Service ensures the performance of your platform is not only maintained, but that you are also maximising the use of key functionality within new product releases. This ensuring you are getting the data you need to effectively monitor your IT environment.
SolarWinds Proactive Maintenance Services
How can Prosperon's proactive maintenance help your SolarWinds platform?

SolarWinds Platform Analysis
Perform diagnostics to assess and benchmark your SolarWinds environment; identifying issues that can affect the underlying performance and efficiency of the solution.

SolarWinds Server Review
Review logs and monitoring scripts to ascertain hardware health, and identify any server issues that could affect the performance of your SolarWinds platform.
SolarWinds Functional Review
Review how you organisation is using key features and functionality within SolarWinds; and provide expert guidance on continued improvements and better feature utilisation.

Fully Documented Report
Full reporting is provided, detailing new and pre-existing issues identified. Recommendations are also provided as to how to resolve the issues and improve performance.

Prosperon Networks are the UK's leading provider of SolarWinds IT management solutions and services. We have been an Authorised SolarWinds Partner for over 14 years, and all of our Engineers are SolarWinds Certified Professionals (SCP). Over this time we have provided consulting, support, and training services to hundreds of SolarWinds customers across the UK and Europe.
Frequently Asked Questions
Can't find the answer to your questions? Why don't you give us a call and our helpful Account Managers will answer any question you have.
Does the Proactive Maintenance Service include technical support?
No, support and product releases beyond SolarWinds' maintenance program is not included. However, Prosperon can provide support at an additional cost.
Is the Proactive Maintenance service available for all SolarWinds products?
The Proactive Maintenance Service can currently be applied to all SolarWinds Orion products only. In the future, non-Orion products may be included.
Does this service include any configuration of the feature settings?
No, this is a review service only. We highlight improvements, and how they benefit the organisation. We also work with you to fix performance issues.
How does this compared to your SolarWinds Health Check Service?
With the Proactive Maintenance Service we can prevent your platform going stale. The SolarWinds health check is a once a year review only, and not as detailed.