Training: Advanced Reporting Masterclass course for SolarWinds Customers
Go beyond default, out-of-the-box SolarWinds reports with our 1 day reporting training course.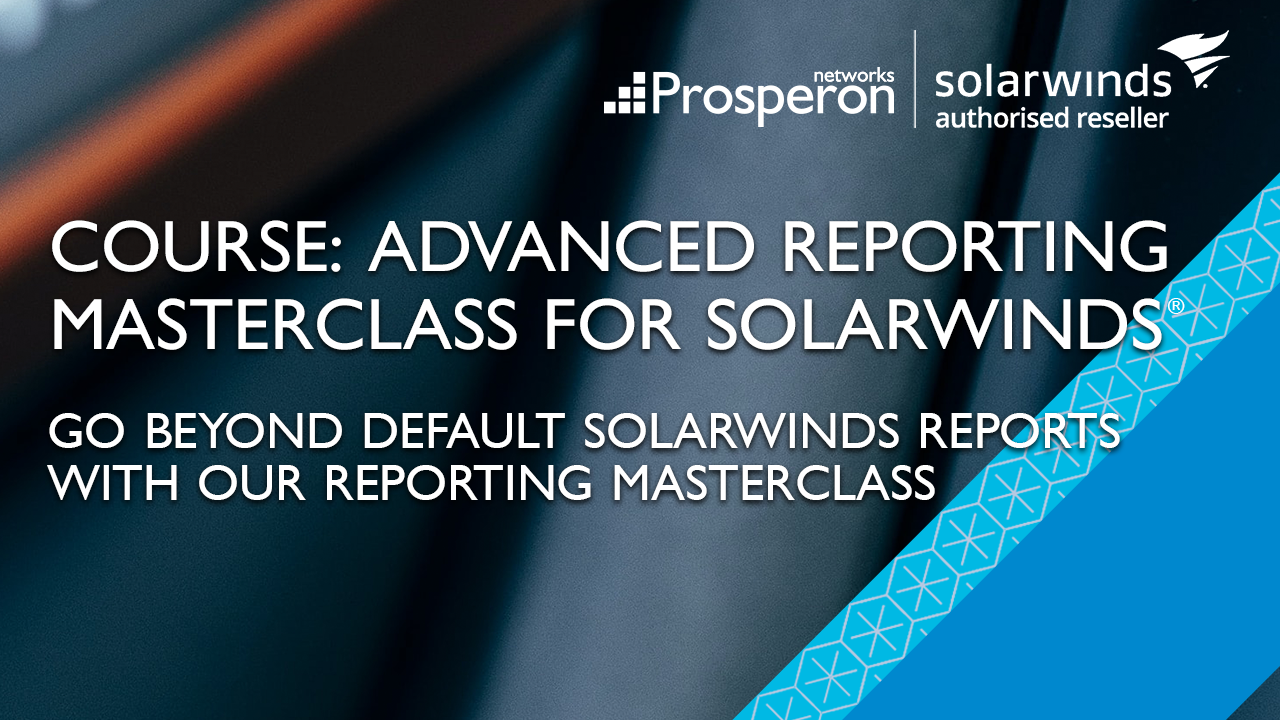 Overview of the Reporting Masterclass
The 1 Day Advanced Reporting Masterclass for SolarWinds® is designed to help you go beyond out-of-the-box reports; and enables you to overcome the common reporting challenges face while configuring SolarWinds.
This course will provide you with the knowledge on the processes to go through internally to determine how the SolarWinds web interface is best configured; such as identifying what data to display, or what metrics to display for different stakeholders. You will learn how to create page presentations within the SolarWinds Web Console that provide the most efficient and appropriate data presentation using custom charts and tables, and how to extract data when there is no default option to do so.
Get in touch with your Account Manager or Register on this page for more information.
*The Advanced Reporting Masterclass for SolarWinds can also be delivered remotely, or in person at your premises.
Register Your Interest Now
What You Will Learn on the Course
1 Day Advanced Reporting Masterclass Course for SolarWinds at a glance.
Create Custom Reports for Individual Stakeholders
Create & schedule reports based on the requirements of different stakeholders in your organisation.
Make Custom Charts and Custom Tables that Work
Get meaningful results from the data generated by SolarWinds using custom charts and tables within reports.
Generate Accurate BI Reports Fast using SWQL
Learn how to quickly create accurate Business Intelligence (BI) reports using SolarWinds Query Language (SWQL).
Extract Data when there is No Default Option for it
Understand how to collect and monitor the specific device data your business requires, so you can…
Report on what Matters with our Best Practise Views
Get the metrics you need with our best practice views: Monitoring Checklists, NOC Views, Network Trends, etc.
Get Management Buying with High-Level Dashboards
Create the specific reports and high-level dashboard views that Administration and Senior Management want to see.

Prosperon Networks are the UK's leading provider of SolarWinds IT management solutions and services. We have been an Authorised SolarWinds Partner for over 14 years, and all of our Engineers are SolarWinds Certified Professionals (SCP). Over this time we have provided consulting, support, and training services to hundreds of SolarWinds customers across the UK and Europe.
Frequently Asked Questions
Can't find the answer to your questions? Why don't you give us a call and our helpful Account Managers will answer any question you have.
Who is the right type of person to attend this Masterclass course?
Anybody that is tasked with providing reports to management. It is of benefit to have experience with SolarWinds, and also knowledge of SQL to built reports.
Do you cover SolarWinds Query Language (SWQL) in this course?
Yes, this course cover SWQL tables, and functions, as well as SQL structure. This will enable you to build custom reports for your organisations needs.
Do I need a good knowledge of SolarWinds to attend this course?
It would be beneficial if you have had some previous experience using the SolarWinds Orion platform, and have a basic understanding of SQL.
Do you provide these services to other SolarWinds partners?
Yes, we have a dedicated channel team that work closely with SolarWinds partners/resellers, to meet the requirements of their customers.