SolarWinds Customisation Services
Get exactly what you need, with Prosperon's best practice SolarWinds customisation services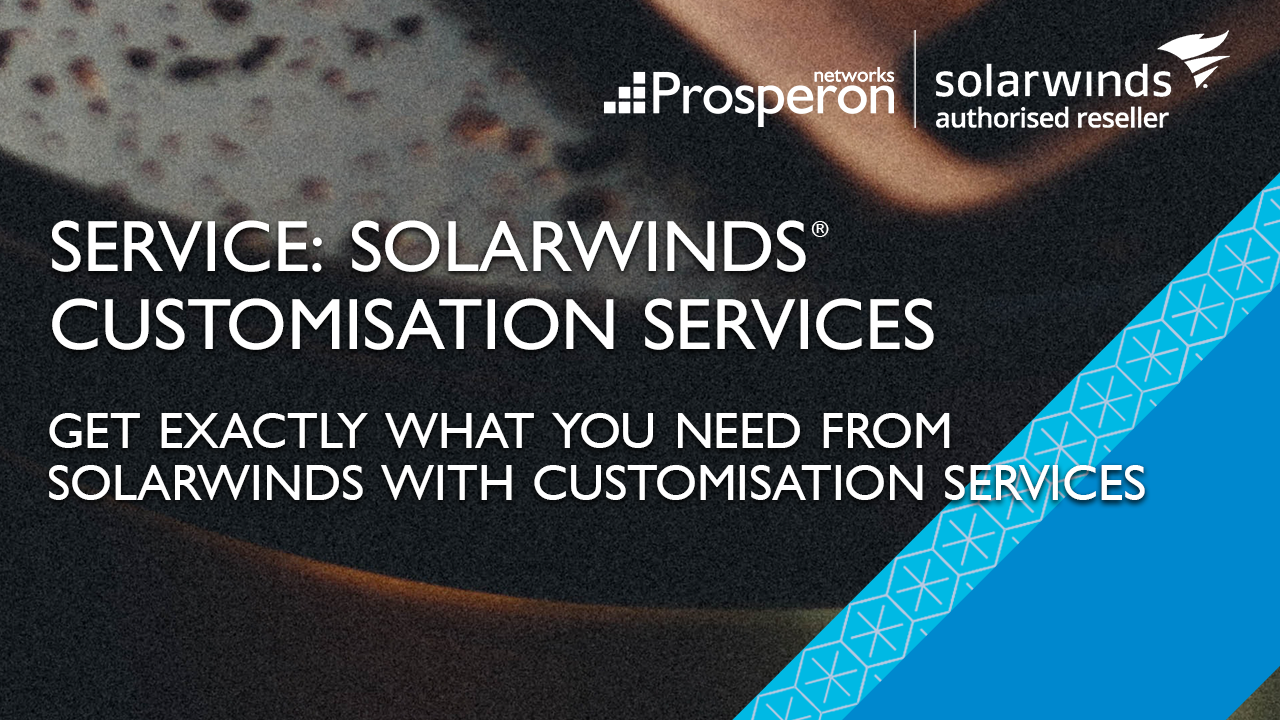 SolarWinds Customisation Services
Prosperon's Customisation Services are designed to help tune SolarWinds® beyond default configurations. Moving past the defaults allows you to harness the platform more efficiently, utilise advanced functionality, and better use SolarWinds to meet your needs.
Working with your team, our experienced engineers can configure many elements of SolarWinds. Alerts can be improved using best practice alerting enhancements. Our engineers can enhance dashboards and reports to incorporate custom data and metrics and better visualise data for different stakeholder needs. Devices that are not monitored by default can also have data extracted using default protocols to meet your needs.
Get More From Your SolarWinds Platform
Go Beyond Default Configurations To Use SolarWinds As A Proactive Monitoring Tool
Every IT environment is unique, and monitoring demands evolve. The default installation templates within SolarWinds only take you so far; you need to go beyond the defaults to meet your needs.
There are many areas within SolarWinds that can be customised. Alerts can be enhanced so notifications go to the right people at the right time and can even execute automatic workflow outputs. Dashboard displays and reports can be enhanced with custom metrics and data aligned to the requirements of your organisation. Custom pollers can be used to collect data from devices that are not obtainable using default protocols.
Enhance Dashboard View, Reports, Maps & Alerts
Meet your unique IT monitoring goals by customising SolarWinds dashboards, reports, alerts and maps to provide the exact information presented as you require.
Resolve Data Gaps In Your SolarWinds Platform
Improve reporting accuracy, dashboard quality and speed up troubleshooting by resolving data gaps such as devices not monitored by default within SolarWinds.
Avoid costly Misconfigurations & Downtimes
Ensure configuration changes and platform upgrades are done correctly by experienced and certified SolarWinds Engineers to avoid loss of monitoring operations.
Futureproof SolarWinds To Meet Growing Demands
Ensure that your SolarWinds platform has the required resources and is performing well enough to scale to meet new business requirements and monitoring challenges.
Customise SolarWinds Reports To Get The Exact Visibility Your Organisation Needs
SolarWinds includes many Alerts, Reports, Views and Dashboards that you can use straight out of the box. However, many of these default templates are often limited and not aligned to your exact requirements.
For many organisations, reporting is an area that requires specific customisation. You might need reports for particular business stakeholders or tailored to your environment, devices, or even locations outside of the default templates. For example, Management roles might require a higher reporting overview to present analysis at the board level and discuss trends that might require future investment.
SolarWinds Customisation Options
How can Prosperon help with your SolarWinds Customisations?

Platform Optimisation
Go beyond default configurations to optimise the platform to provide the visibility and data metrics your organisation requires to monitor your environment effectively.

Performance Optimisation
Improve the performance of slow SolarWinds platforms. Retrieve data faster and speed-up page load times of the Orion Web Console; and scale to meet future demands.

Alerting Optimisation
Reduce false positive alerts that distract you from urgent issues. Create alerts based on what is essential for your organisation, with custom outputs to help resolve issues faster.

Dashboards Optimisation
Understand what is going on within your environments with custom dashboards. Create a specific dashboard to provide data metrics and information to particular users.

Reporting Optimisation
Create custom reports for different stakeholders and SolarWinds users; that include specific data metics and information to meet their reporting requirements.
Threshold Optimisation
Baseline your SolarWinds environment to identify accurate static and dynamic threshold levels. Understand what is expected and recognise issues that need to be addressed.

Prosperon Networks are the UK's leading provider of SolarWinds IT management solutions and services. We have been an Authorised SolarWinds Partner for over 14 years, and all of our Engineers are SolarWinds Certified Professionals (SCP). Over this time we have provided consulting, support, and training services to hundreds of SolarWinds customers across the UK and Europe.
Frequently Asked Questions
Can't find the answer to your questions? Why don't you give us a call and our helpful Account Managers will answer any question you have.
Can you help identify areas where improvements can be made?
Yes, we can provide a full review of your platform and identify areas that require attention. This is normally done using our healthcheck service as a starting point.
Do you provide full documentation on projects undertaken for customers?
Yes, to maintain our high quality levels there are a number of documents we provide both pre and post engagement; so that you have full visibility of our work.
Will there be any SolarWinds outages, or loss of services while you work?
Not necessarily; many configuration changes do not affect performance or data. We will highlight this to you in advance of work being carried out.
Do you provide these services to other SolarWinds partners?
Yes, we have a dedicated channel team that work closely with SolarWinds partners/resellers, to meet the requirements of thier customers.