Training: 5 Day Administrator Course for SolarWinds Customers
Get more from your SolarWinds platform with classroom based administrator-level training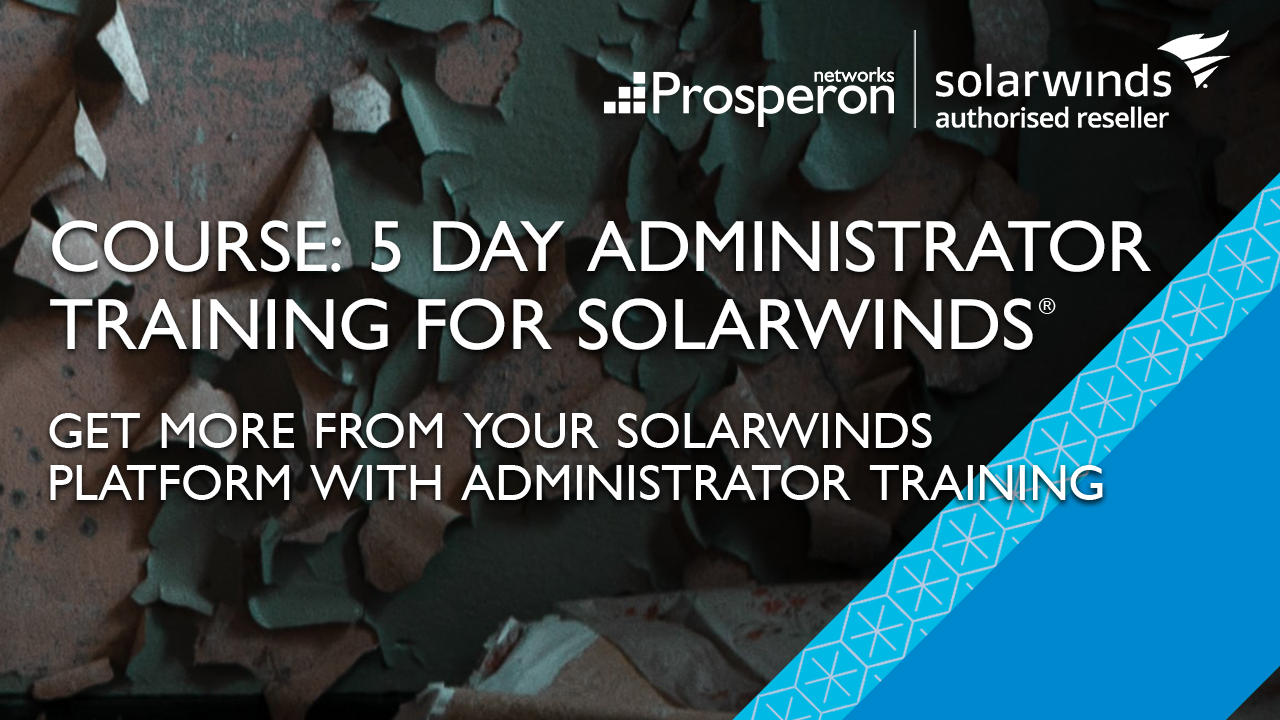 Overview of the Administrator Course
The 5 Day Administrator Course for SolarWinds® is designed to give you the knowledge to use SolarWinds as a fully proactive monitoring tool and covers installation, configuration, and maintenance.
This course covers all the SolarWinds Network and Systems Management modules; and empowers you to go beyond out-of-the-box configurations using advanced techniques on alerting, reporting, and creating unique dashboard views. Giving you the skills to meet your organisations monitoring needs. This is a classroom-based course with a mixture of in-depth technical sessions and hands-on labs led by a SolarWinds Certified Trainer. Spaces fill up fast so register your interest to attend now.
Upcoming Course Timetable
| | | |
| --- | --- | --- |
| Dates | Location* | Availability |
| | | |
| 5th - 9th Feb 2024 | Virtual - Online | Spaces Available |
| | | |
| 17th - 21st June 2024 | Virtual - Online | Spaces Available |
| | | |
| 14th - 18th Oct 2024 | Virtual - Online | Spaces Available |
| | | |
*The Administrator Training Course for SolarWinds can be delivered remotely, or in person at your premises.
Register Your Interest Now
What You Will Learn on the Course
5 Day Administrator Course for SolarWinds at a glance.
Maintain Performance & Ongoing Maintenance
Learn how to maintain the performance and ongoing maintenance of your platform to keep it running smoothly.
Avoid False Positives with our Alerting Best Practices
See the issues that really matter to you. We show you how to avoid false positives with our alerting best practices.
Automate Device & Application Discovery
Utilise best practices for grouping options, and learn how to create dependencies SolarWinds core modules.
Collect & Monitor Specific Device Data
Understand how to collect and monitor the specific device data your business requires, so you can…
Create Reports for Individual Stakeholders
Be proactive by creating & scheduling reports based on the requirements of different organisational stakeholders.
Provide Powerful Dashboard Views for Multiple Users
Build dashboard views based upon the needs of multiple user types (mgmt, servicedesk, netadmin and sysadmin).

Prosperon Networks are the UK's leading provider of SolarWinds IT management solutions and services. We have been an Authorised SolarWinds Partner for over 14 years, and all of our Engineers are SolarWinds Certified Professionals (SCP). Over this time we have provided consulting, support, and training services to hundreds of SolarWinds customers across the UK and Europe.
Frequently Asked Questions
Can't find the answer to your questions? Why don't you give us a call and our helpful Account Managers will answer any question you have.
Do I need a good knowledge on SolarWinds to attend this course?
Yes, we recommend that you have a good, working understanding of SolarWinds beforehand, as this course is very detailed and technical.
Will this course help me to achieve the SolarWinds accreditation?
Yes, this course provides a strong foundation for, and will help to prepare you to take the SolarWinds Certified Professional (SCP) exam.
Does this course cover all add on SolarWinds Orion modules?
Yes, the 5 Day Administrator Course for SolarWinds covers all of the core SolarWinds Network and Systems modules within Orion.
Do you provide these services to other SolarWinds partners?
Yes, we have a dedicated channel team that work closely with SolarWinds partners/resellers, to meet the requirements of their customers.