SolarWinds Managed Upgrade Services
Ensure your platform is kept up-to-date, with Prosperon's proactive upgrade services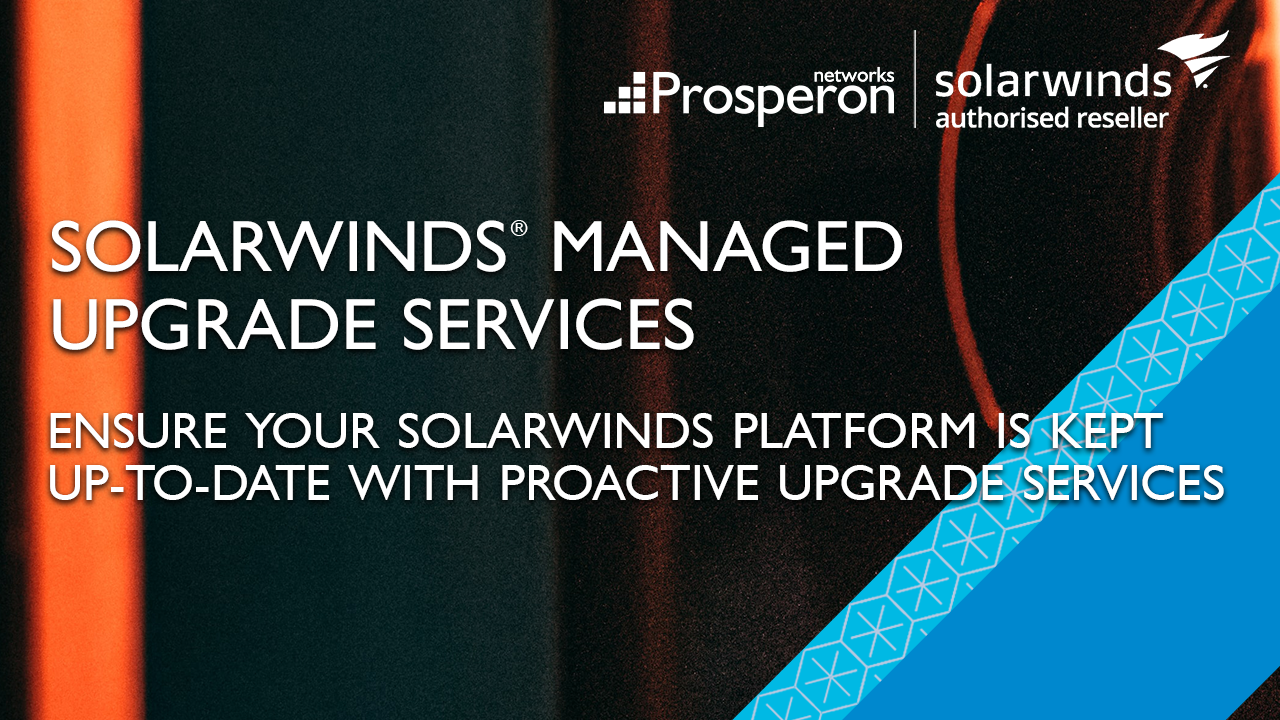 Managed Upgrade Services Overview
Prosperon's SolarWinds Managed Upgrade Services are designed to keep your SolarWinds platform up-to-date. SolarWinds have many products within their portfolio, and have an aggressive development path. Upgrading isn't always straightforward, even with prior experience. 
Our Managed Upgrade Services ensure your SolarWinds products are running the latest and most secure versioning, whist allowing you to take full advantage of new features and functionality. This means that you can relax, knowing that knowledgeable Engineers are overseeing regular upgrade projects. They will report to you before, during, and after successful upgrade implementations, to keep you informed throughout.
Proactive SolarWinds Upgrades
Benefit From New SolarWinds Features & Functionality Within Product Updates 
SolarWinds release product updates frequently, but you're not benefiting from them if you don't keep your platform up-to-date. Prosperon's SolarWinds Managed Upgrade Services carefully takes you through new functionality, and work with you to understand how you can benefit.
Prosperon's Engineers will keep your platform upgraded, whilst working with you to ascertain current platform conditions, changes to your infrastructure that might be required. Sometimes, new features require configuration changes to your platform. Our Engineers will work with you, advising you on changes that need to be made before any upgrades take place, to ensure minimal disruption to your SolarWinds services.
Make Better Utilisation Of New SolarWinds Features
Maximise your investment in SolarWinds by ensuring your business is utilising and benefiting from features and functionality within new SolarWinds product releases.
Avoid Service Disruptions During Product Upgrades
Confidently update knowing that upgrades are carried out by experienced Engineers that provide smooth delivery, designed to avoid serious service interruptions.
Prepared IT Infrastructure For Smooth Upgrades
Engineers work with you to review SolarWinds and your underlining IT infrastructure to identify requirements prior to implementation, to ensure a smooth upgrade process.
Avoid Delays With Clear Upgrade Management
Engineers manage the entire upgrade process to avoid delays and unforeseen issues during implementation; whilst keeping stakeholders informed at all stages.
Best Practice SolarWinds Upgrade Methodology With Full Documentation
All SolarWinds upgrades are performed according to best-practices. Our upgrade methodology ensures that your organisations monitoring operations continue to run smoothly during the process, without interruptions. The platform is then fully optimised for you to benefit from new features included within the software upgrade.
Throughout the upgrade process, our SolarWinds Engineers document every step taken, so you are aware of all the actions taken. Upon completion, the platform is thoroughly tested by our Engineers, and the results are documented in our logs for you to review and keep so as a reference of the upgrade process.
SolarWinds Managed Upgrade Services Features
How can Prosperon help with your SolarWinds upgrades?

New Version Analysis
In-depth analysis of the benefits of new SolarWinds versioning's to your organisation; and how to best upgrade for fast adoption of and better utilisation of SolarWinds releases.
Platform Review
Review your SolarWinds platform and it's underlining IT infrastructure using data capture and log analysis to uncover potential issues prior to implementing upgrades.

Upgrade Planning & Management
Define the upgrade process, document specific requirements prior to upgrading, ensuring full visibility and ownership of preparation tasks before the upgrade begins.

Upgrade Implementation
Carry out the upgrade process, according to best practices; and work with or without customers to test that the upgrade is successful and SolarWinds is fully functional.

Post Upgrade Documentation
Full documentation is provided, detailing any arising issues and the results of the testing. These are submitted for your sign off to ensure you're happy with the work.

Prosperon Networks are the UK's leading provider of SolarWinds IT management solutions and services. We have been an Authorised SolarWinds Partner for over 14 years, and all of our Engineers are SolarWinds Certified Professionals (SCP). Over this time we have provided consulting, support, and training services to hundreds of SolarWinds customers across the UK and Europe.
Frequently Asked Questions
Can't find the answer to your questions? Why don't you give us a call and our helpful Account Managers will answer any question you have.
We are a few versions behind, can we still use this Managed Upgrade Service?
Yes, this service is designed to help customers get their platforms to the newest versions. We will discuss the required steps during planning stages.
Does this Upgrade Service include hardware migration if needed?
Sometimes, migrating to a new platform involves other delivery aspects. This is not included in this service, but we will be clear on the extra time required for this.
Can SolarWinds upgrades be done outside of business hours?
Yes, SolarWinds upgrades can be implemented outside of business hours. We would need to factor in additional costs to provide this however.
Do your engineers need to be onsite to perform the SolarWinds upgrade?
No, the managed upgrade service is provided remotely by our Engineers. There is no requirement for us to be onsite to perform successful upgrades.