About Prosperon Networks
Supporting SolarWinds Customers In The UK & Europe Since 2006
Our Passion Is To Help Solve The Biggest Monitoring & IT Management Challenges
Prosperon understands that not all customers have the resources or skills to ensure that their monitoring platforms are stable and producing valuable, reliable statistics to meet business outcomes.
Our services ensure that customers benefit from our knowledge and experience with the result being a proactive approach to their management platforms. Prosperon strives for longevity in customer partnerships, with the end goal of maximising their return on investment as quickly as possible.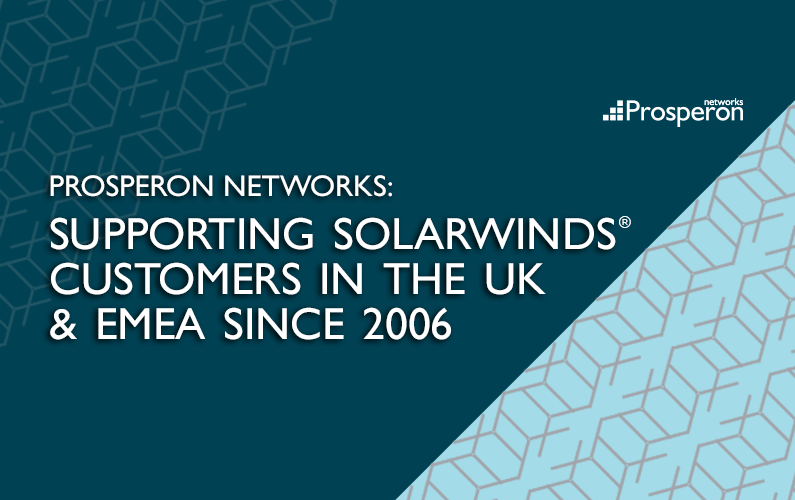 Solving Problems Using Our Experience, Best Practice & Ethical Approach
Over the last 14 years, Prosperon have recruited the best people and trained them to listen to customer needs. Our engineers are accredited, with years of experience working with SolarWinds®. We pride ourselves on our delivery processes and clear documentation; this leads to successful projects and satisfied customers.
Today, Prosperon helps hundreds of organisations worldwide with their IT monitoring requirements. We are driven by our ethos of putting our customers first, listening to your requirements and delivering on them utilising our experience, best practices, and ethical approach. Through our growth, we have been able to partner with some of the world's leading technology companies.
Our Mission & Values
A key aspect of our Prosperon is our people. Dedication and success are recognised throughout the company, and everyone works hard to ensure customer satisfaction. Our divisions are made up of highly motivated and experienced individuals, who are focused on providing insight and support, whilst maintaining the highest level of service.

Unity
One team. No exceptions, we are a family united by a clear purpose.

Integrity
We put our people first; and our people put our customers first.

Quality
Strive for Excellence; and continue to search for Improvements.
Supporting SolarWinds Customers Since 2006
Some of the customers that trust Prosperon