SolarWinds Deployment Services
Get SolarWinds up and running faster, with Prosperon's best practice deployment services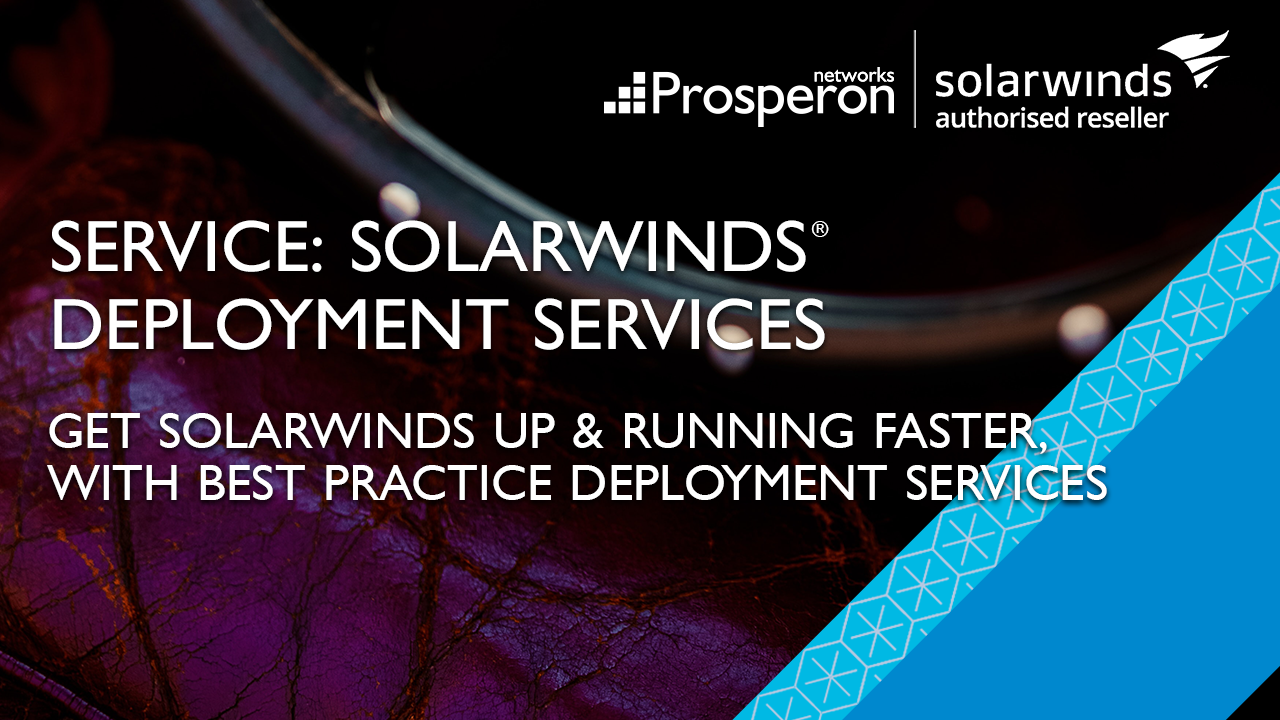 Deployment Services Overview
Prosperon's Deployment Services are designed to save you time and accelerate deployment rates, to ensure that you see immediate value from your investment in SolarWinds®. Our services include best practice architectural design, planning, and full customisation that goes beyond what is provided by default within SolarWinds. Our experienced engineers use scoping calls and on-site visits to uncover your true requirements and provide detailed Scope of Work documents, supported with followed-up consultancy logs detailing the work provided. By the time we are done, you will have a platform that is fully operationally installed, fine-tuned to meet your unique requirements, and is scalable to meet future demands.
Complete SolarWinds Architectual Design, Installation, Set-Up & Configuration
Prosperon Engineers work closely with customers to design the platform to meet your unique IT monitoring challenges and maximise your investment by utilising SolarWinds to the best of its abilities.
Our Engineers deploy the platform according to best practice that is built on over 15 years experience deploying some of the biggest SolarWinds installations globally. We go beyond out-of-the-box configurations to give you and other stakeholders the visibility and data needed to meet your IT monitoring requirements; and give you the knowledge and training to use SolarWinds as a proactive monitoring tool.
Accelerate Your Return-On-Investment On SolarWinds
Hit the ground running with a platform that has been properly deployed, provisioned and configured according to best practices to deliver immediate business benefits.
Configure SolarWinds To Meet Your Business Needs
Deliver the visibility and information you and other teams across the IT department require, by fully tailoring SolarWinds to meet your unique business requirements.
Seamlessly Introduce New SolarWinds Modules
Confidently grow your SolarWinds platform by introducing additional Orion modules, knowing they have been correctly provisioned and configured to work together.
Futureproof SolarWinds To Meet Growing Demands
Ensure that your SolarWinds platform has the required resources and is performing well enough to scale to meet new business requirements, and monitoring challenges.
A High Performing SolarWinds Platform That Grows To Meet Your Future Requirements
As time passes, you may want to introduce additional SolarWinds modules into your platform to meet your changing IT Monitoring needs. Prosperon can help plan, implement and configure new modules, including the creating of additional alerts, configurations, maps and dashboard views.
Your SolarWinds platform can get sluggish if not properly maintained. Prosperon Engineers can ensure that your platform is kept up-to-date with the latest product releases, correctly provision the platform for optimal performance and scalability, and assess existing alerts, dashboards and reports for current relevance to your requirements.
SolarWinds Deployment Options
How can Prosperon help with your SolarWinds deployment?

Architecture Design
Identify the needs of your organisation, what needs to be monitored, who will be accessing the solution, in order to plan and design the platform to make the most efficient use of it.

Platform Installation
Install the SolarWinds platform according to best practice standards, ensuring servers are correctly provisioned, and the platform is performing to the best of its capabilities.

Platform Customisation
Go beyond default functionality to customise SolarWinds to deliver the visibility and data your organisation needs, through custom alerts, dashboards, reports, and more.

New Module Deployment
Add new SolarWinds modules into your Orion platform knowing that they are correctly configured to work seamlesly, delivering the visibility your organisation needs.

Scalability & Resource Provisioning
Maintain high-performance levels by ensuring that SolarWinds servers and databases are adequately provisioned; and deploy additional polling engines to meet growing demands.

Product Upgrades
Ensure your platform is performing at optimum levels, and you are making full use of all the latest features and functionality in recent SolarWinds product updates.

Prosperon Networks are the UK's leading provider of SolarWinds IT management solutions and services. We have been an Authorised SolarWinds Partner for over 14 years, and all of our Engineers are SolarWinds Certified Professionals (SCP). Over this time we have provided consulting, support, and training services to hundreds of SolarWinds customers across the UK and Europe.
Frequently Asked Questions
Can't find the answer to your questions? Why don't you give us a call and our helpful Account Managers will answer any question you have.
Can SolarWinds deployment services be provided to us remotely?
Many deployments services can be delivered remotley, depending on requirements. We will advise on the delivery options based on work.
Do you provide full documentation on projects undertaken for customers?
Yes, to maintain our high quality levels there are a number of documents we provide both pre and post engagement; so that you have full visibility of our work.
Can you help deploy additional SolarWinds modules into our platform?
Yes, this is a very common requirement for existing SolarWinds customers, and our engineers have extensive experience deploying additional SolarWinds modules.
Do you provide these services to other SolarWinds partners?
Yes, we have a dedicated channel team that work closely with SolarWinds partners/resellers, to meet the requirements of thier customers.