SolarWinds Managed Administrator Services
Maximise your investment in SolarWinds, with Prosperon's proactive administration services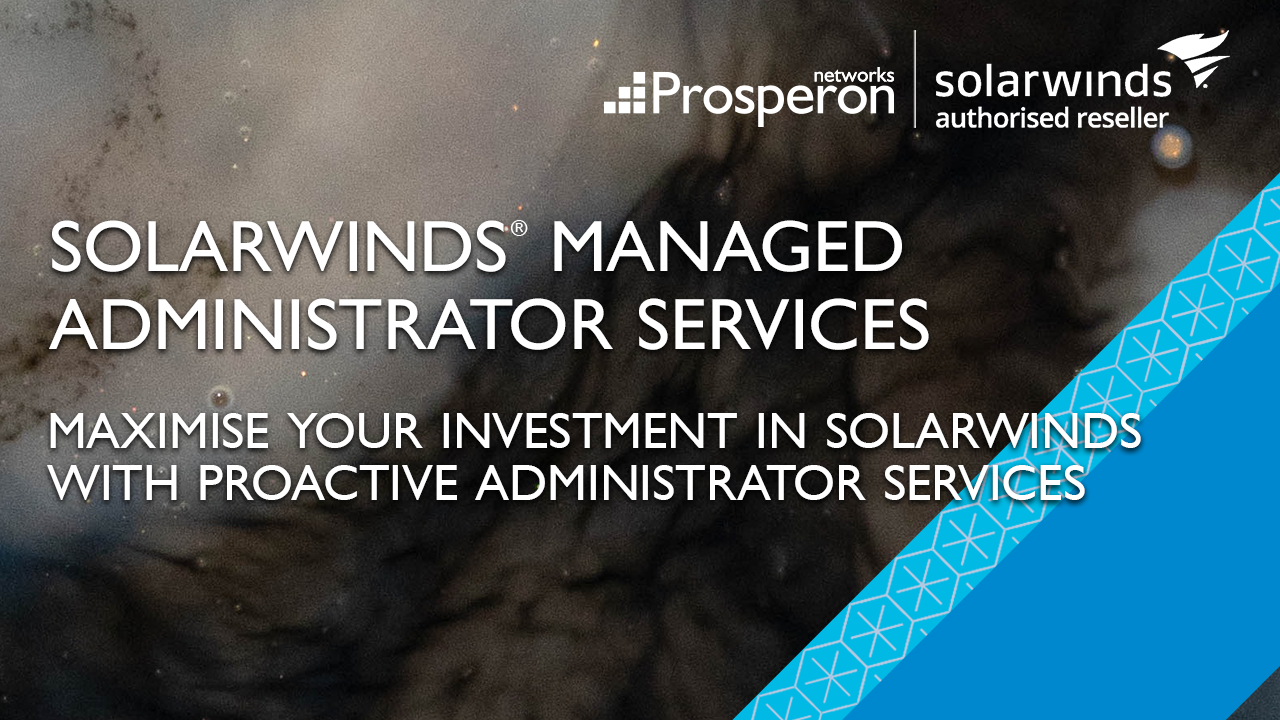 Managed Administrator Services Overview
Prosperon's SolarWinds® Managed Administrator Services are designed to take away the day-to-day hassle of maintaining SolarWinds. For many businesses, maintaining SolarWinds can be time consuming and costly.
Outsourcing the management of your platform to experienced third-party Engineers provides significant benefits to your SolarWinds solutions. Our knowledgeable Engineers will make efficiency improvements to your platform, including implement configuration changes, create alerts, reports and dashboards aligned to your requirements, to deliver more tangible benefits to your business. Experienced Engineers will also reduce the costs associated with managing your SolarWinds environment.
Proactive SolarWinds Administration
Complete Management Of Your SolarWinds Configurations, Alerts, Reports & More
Prosperon Engineers work in close partnership with customers to proactively identify performance improvements with your SolarWinds environment. They carry out configuration changes that deliver true benefits tailored to your unique environment and business requirements.
Our SolarWinds Managed Administrator Services are delivered and project managed by experienced engineers; and cover the following areas: Orion Core Settings, Node Management, Monitoring profiles, Alerting, Reporting & GUI Customisation. The management of this service is backed by a service-level agreement that is customised to your requirements; as determined during the discovery process at the start of our partnership.
Better Utilise Your Internal IT Department Resources
Free up internal resources to focus on other important projects, with the reassurance that SolarWinds is being managed effectively, and meeting your business needs.
Base Infrastructure Decisions On Reliable Metrics
Get reliable monitoring metrics that your business really needs to base future decisions on IT infrastructure resources, hardware purchases, and changing user needs.
Maximise SolarWinds' ROI To Your Organisation
Get the most out of your investment in SolarWinds by proactively and continually developing your platform in-line with your changing IT Monitoring challenges.
Better Align SolarWinds To Your Business Needs
Harness the true power of SolarWinds with knowledgeable engineers aligning the capabilities of SolarWinds to your organisations monitoring and IT management challenges.
Best-Practice SolarWinds Administration Following A Structured Methodology
The SolarWinds Managed Administrator Service is delivered following a standardised approach, beginning with a discovery. Our Engineers engage with stakeholders to understand your current monitoring status, service requirements, and IT environment. A full technical environment analysis is then conducted to understand how the service should be implemented. Finally, mutually agreed design implementation documents are produced. 
Our Service Delivery Manager works with your team(s) to report-on, and continually monitor the performance of the service in order to ensure we perform to the best of our ability, delivering to your needs.
SolarWinds Managed Administrator Services
How can Prosperon's managed administrators help your SolarWinds platform?

Manage Core Configurations
Review and configure core SolarWinds settings according to best practices, and your business needs; including data retention, credentials, core and module settings.

Node Administration
Efficiently service requests to add, remove, unmanage, and modify nodes that are directly managed within your SolarWinds IT Management platform.

Create & Manage Monitoring Profiles
Ensure SolarWinds users have the correct levels of visibility and access. Review and confirm profiles against known object libraries, advising on correct methods.

Advanced Alerting Configuration
Adopt a proactive alerting methodology, advising on improvements to consider based-on alerting best practices. Make changes to alerting definitions, as per service requests.

Advanced Reports & Dashboards
Review current reports and reporting requirements. Identify definitions to include in existing or new reports/dashboards, and where relevant use SLA's for specific roles.

User Interface (UI)
Proactive review of your SolarWinds web user interface, ensuring that the console is built correctly, and provides efficient visibility of your monitoring objects and technologies. 

Prosperon Networks are the UK's leading provider of SolarWinds IT management solutions and services. We have been an Authorised SolarWinds Partner for over 14 years, and all of our Engineers are SolarWinds Certified Professionals (SCP). Over this time we have provided consulting, support, and training services to hundreds of SolarWinds customers across the UK and Europe.
Frequently Asked Questions
Can't find the answer to your questions? Why don't you give us a call and our helpful Account Managers will answer any question you have.
Is the Managed Administrator Service delivered onsite or remotely?
The SolarWinds Managed Administrator Service is delivered remotely, with our Engineers accessing your platform via securely via VPN, or remote desktop.
Is this also a NOC service for us to monitor our IT infrastructure?
The SolarWinds Managed Administrator Service maintains and improves the monitoring platform itself. We are not managing the nodes connected to it.
Is the Administrator Service an annual agreement, and how is it billed?
Yes, the SolarWinds Managed Administrator Service can be purchased annually, or purchased as multi-years, with quarterly advanced billing.
Is the SolarWinds Managed Administrator Service 24/7/365?
No, at this time, the SolarWinds Managed Administrator Service covers United Kingdom (UK) business hours of 9am to 5:30pm, Monday's to Friday's.