Training: Advanced Alerting Masterclass course for SolarWinds Customers
Go beyond default, out-of-the-box SolarWinds alerts with our 1 day alerting training course.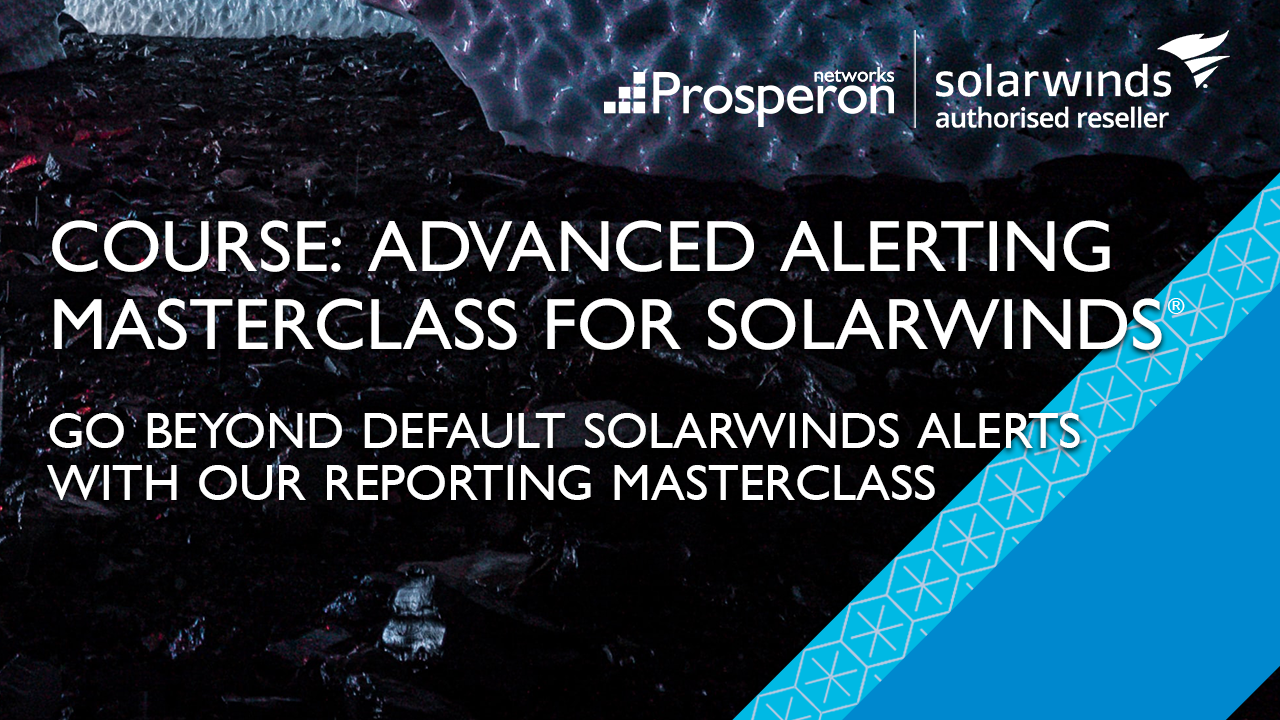 Overview of the Alerting Masterclass
The 1 Day Advanced Alerting Masterclass for SolarWinds® is designed to provide you with the knowledge to optimise the quality of your alert, eliminate false positives, and implement routing and automation outputs.
This dedicated course provides detailed knowledge, delivered through hands-on lab sessions; intended to give you the confidence to tackle tricky alerting configuration challenges. Alerts generated by SolarWinds is one of the most important areas for customers to get right. Completion of this course will ensure you can improve the quality of your SolarWinds monitoring capabilities by optimising alerting performance, and outputs, beyond what is available by default out-of-the-box.
Upcoming Course Timetable
Get in touch with your Account Manager or Register on this page for more information. *The Advanced Alerting Masterclass for SolarWinds can also be delivered remotely, or in person at your premises.
Register Your Interest Now
What You Will Learn on the Course
1 Day Advanced Alerting Masterclass Course for SolarWinds at a glance.
Reduce False Positives Alerts & Alerting Noise
Accelerate remediation time by cutting through the amount of none important alerting information you have to deal with.
Fine-Tune Alerting Triggers and Outputs
Understanding how to use alert triggers intelligently to determine what is acceptable and what is not.
Improve Alerting Structure Efficiencies
Bring your SolarWinds alerting outputs down to true state levels by understanding how to structure alerts correctly.
Create Custom Alerts Based-On Any Parameters
Ensure that you have alerting coverage on conditions that are unique to your organisation with the use of custom alerts.
Enhance Alerting Workflows Using Automation
Improve alerting workflows using advanced automation techniques; including, custom scripting, VMware and NCM actions.
Integrate SolarWinds Alerts With 3rd Party Tools
Enhance data exchanges between SolarWinds alerts and third-party ITSM and IT monitoring tools, such as ServiceNow®.

Prosperon Networks are the UK's leading provider of SolarWinds IT management solutions and services. We have been an Authorised SolarWinds Partner for over 14 years, and all of our Engineers are SolarWinds Certified Professionals (SCP). Over this time we have provided consulting, support, and training services to hundreds of SolarWinds customers across the UK and Europe.
Frequently Asked Questions
Can't find the answer to your questions? Why don't you give us a call and our helpful Account Managers will answer any question you have.
What is the aim and outcomes I can expect from this course?
To give you the knowledge and skills to take back control of alerts generated by SolarWinds, which can negatively affect your monitoring capabilities.
Does this course cover IT Service Desk integrations with SolarWinds?
Yes, there is a module within the course that is dedicated to 3rd party integrations with SolarWinds, such as service desk applications like ServiceNow®.
Do I need a good knowledge of SolarWinds to attend this course?
It would be beneficial if you have had some previous experience using the SolarWinds Orion platform, and have a basic understanding of SQL.
Do you provide these services to other SolarWinds partners?
Yes, we have a dedicated channel team that work closely with SolarWinds partners/resellers, to meet the requirements of their customers.