SolarWinds Orion Network Perfomance Manager V12 Released
The new versions have landed, yes that's right versions. Due to the new web GUI updates within SolarWinds® Orion, each of the modules has been updated, however the exciting stuff is focused on the new
SolarWinds Network Performance Monitor (NPM)
and
SolarWinds Server & Application Monitor (SAM)
Orion applications.
These two SolarWinds applications have received some significant feature inclusions, therefore you should be looking to upgrade your platform to take maximum advantage. So what is new and what am I most excited about?
NetPath
Within the NPM release, the biggest new feature is what SolarWinds are calling NetPath, at our recent event this feature got everyone talking. Handing responsibility to 3rd parties for network topology and other critical network infrastructure aspects means it is now even more essential to know how network traffic is being handled.
NetPath is traceroute on steroids with no prescription required! Placing NetPath agent probes in various points of your network which then perform synthetic traffic transactions interrogating each hop along a path helps you identify site to site path performance quality, route paths and changes.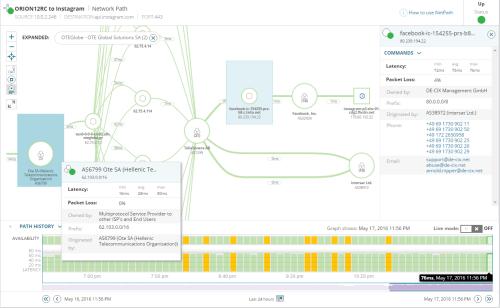 How can you benefit from using NetPath:
Validate the performance of a network path using synthetic packets from one location to another i.e. replicating communication from a remote office to the central data centre ERP application
Identify performance issues along the individual path hops
Gain visibility into the route topology and who owns each segment of the path chain, so you know who, what and where to report issues to
Identify how changes in path routing affects overall performance i.e. is one route better than others and if a route changes, is this the root cause of performance issues being experienced
Web User Interface
For those of you with strong Orion installations that have been following the solutions SolarWinds provides, the need for a UI update has been needed for a while now. With more and more modules included within Orion (such as SolarWinds Database Performance Analyser and SolarWinds Virtualization Manager) the top-level menu was becoming very congested.
The SolarWinds UI team have been hard at work making the application more accessible with a new menu system at the same time giving the presentation a bit of a polish up. The changes are not revolutionary, more evolutionary with a cleaner modern look.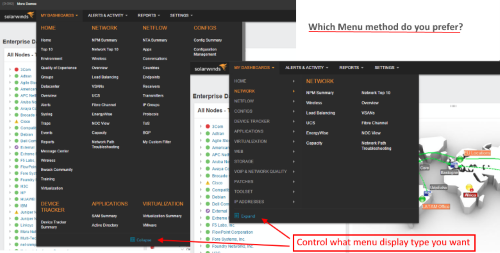 Cisco Switch Stack Monitoring
Let's be fair, the use of custom SNMP pollers to capture the health, configuration and status of switch stack monitoring has not been the best way of providing this function. It works and it allows visibility, but it is a bit clunky. You love the way Orion will just automatically capture more details about your F5's (more below on this) or UCS devices, well switch stack monitoring has now received this treatment. The basics include knowing if there are issues with a stack member or inter switch communication. Well you get this and a whole lot more in this update such as Stack member health and status including nice visual presentation and configuration settings such as Master and Backup Master switches.
F5® BIG®-IP Topology
For sometime Orion has automatically polled additional metrics from an F5, but this new release sees much more detail being captured. Configuration of F5's including Virtual Server, traffic managers and down to pool member data metrics are captured, with connection counts at each layer. Not only that but carrying on the visual display method of the AppStack Orion displays this in a visual hierarchical form.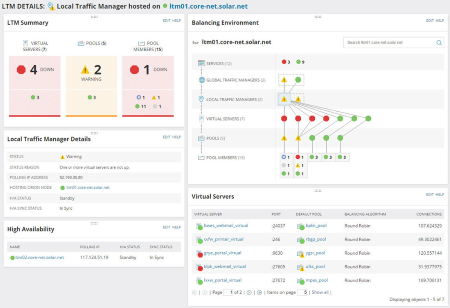 Now you can see how these layers work together and if there are issues, at what layer it is occurring – insightful!
ServiceNow® Alert Integration
While this does replace the custom API work we have provided customers, the fact that native support has been added to send alerts to ServiceNow is a big feature enhancement for many of our customers. ServiceNow is the market leader for service management platforms, which Orion alerting engine now includes an action to send an alert directly to ServiceNow and for that incident number to be recorded.
I need to be clear – please do not configure all of your alerts to send to ServiceNow, as your service desk team will not be amused at the mass of incidents that then get created by Orion. Controlled use and installations that have had their alert generation tuned to reduce false positives is our recommendation here. If you have having issues with high volumes of alerting, speak to us about how our SolarWinds Customisation Services can help.
You can map Orion data into your ServiceNow field structure to ensure alert content provides an efficient data exchange for a ServiceNow incident.
Its great that SolarWinds continue to listen to their customers, this is a fantastic new release.
Now we are hungry for the next, bring it on!
Training Course: SolarWinds Training Courses

Mark Roberts
Technical Director
Mark Roberts is the Technical Director at Prosperon Networks and a SolarWinds MVP. Mark has been helping customers meet their monitoring needs with SolarWinds IT Management Solutions for over 14 years.
Training Course: SolarWinds Training Courses
Related Insights From The Prosperon Blog
In this webinar, you will discover how to leverage the new dashboards framework in SolarWinds® Orion® 2020.2. This webinar examines how to increase your visibility and...
read more