The New SolarWinds Certified Professional Program Has Arrived!
SolarWinds® created way back (in IT terms it is way back) in June of 2009 a certification program, the SolarWinds Certified Professional (SCP), for users of their Orion platform to attain a vendor accreditation. This for us as dedicated SolarWinds resellers was a seminal moment in the lifespan of working with SolarWinds, as it marked the company out as being of the size and deployment coverage that people would take note and see the benefit of having such an accreditation.
I have taken (due to expiry) the SCP exam twice myself now and have personally trained probably a good couple of hundred engineers to pass the exam. In all this time, it has not fundamentally changed very much; it was still heavily focused on SolarWinds Network Performance Monitor (NPM), with only a couple of questions touching on the Network Configuration Manager and Netflow modules. As SolarWinds continued to grow and certainly their flagship Orion platform continued to get more modules and fully delivered for Systems and Network monitoring coverage, the alignment of the SCP certification did not keep up.
Towards the end of last year, SolarWinds suspended the SCP program with a view to the whole structure and purpose to be brought up to date and to position it as a truly reflected certification on the solution to which it related. Today SolarWinds announced that the first two certification exams are being released on to the world.
From that statement, you will have already picked up on the fact that the SCP is not just based on a single exam anymore. While the Orion NPM and SAM applications are the first exams to be released, that grand plan being implemented is that there will be a total of 10 individual exams, with 8 being fully product-based. The final two are overarching exams; Architecture and Support. Clearly, these last two are for users who work in environments which are large scale or complex by nature, with questions testing your knowledge on how to design, implement and perform self-support tasks.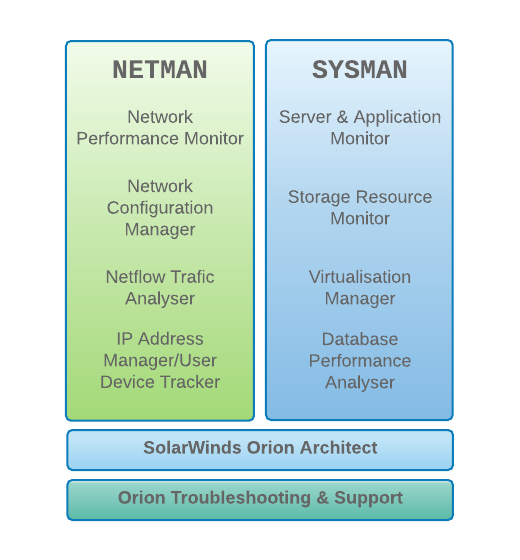 Therefore, for those of you familiar with other vendor certification programmes you will see that this is structured in a way that allows you to focus on your area of expertise as it relates to your role, and importantly which application licenses you own and work with at your place of work.
On the first morning of our five-day training courses, we discuss the SCP exam and the most common response was 'but I don't work with networks, I am not going to be able to pass that exam', which was a very fair argument. As the old SCP was very heavily focused on NPM and network monitoring it was not a fair representation of the capabilities of the Orion platform and how it monitors so much more than network equipment. With the new structure, SolarWinds users can take the exams that align with their work and careers and for employers, it is much clearer what capabilities they will benefit from when hiring.
My hope and which I strongly believe has a chance is for the SolarWinds certification program to be the 'Monitoring Engineer' badge of competency. If you want to hire a network engineer of capability, you look for someone with a minimum of CCNA. You know that even though you may have Dell, HP, Extreme or any other switch or router vendor in your organisation, the fact they are CCNA means they 'know' networking. As the scope of a career as a monitoring engineer grows, having the complement of NetMan, SysMan or the complete set of SolarWinds Certified Professional accreditations will be your entrance and step up to that.
Training Course: SolarWinds Training Courses
SolarWinds has chosen a subscription model, whereby someone who wishes to take one of the exams will pay for that exam and this entitles that person to access the various SCP resources for 1 year at a cost of $200. Further SCP exams can be taken during this period for the same fee of $200. The subscription aspect comes further in to play in subsequent years were renewing the $200 subscription will maintain SCP status and access to the SCP resources. It is important to note that multiple SCP certifications are included in the subscription. Therefore, if for example, you held 3 SCP certificates; NPM, SAM, and NTA the single subscription would cover all of these.
This model is different from other vendors and is designed to offer SCP holders access to more advanced training resources in order to keep up to date with continued developments within the applications. If you choose not to renew the subscription, each SCP certificate will auto-expire after 3 years.
Additional Benefits of the New SCP Program
Obviously, the main reason for taking the SCP exam is to attain the SolarWinds Certified Professional accreditation, but SolarWinds are also providing the following as part of the subscription:
Product exam including 1 retake if required
SCP webcasts
SCP online training
SCP invitations to live events
SCP study hours with SolarWinds experts
Access to select GNS3 courses
If you are under active maintenance, you are recognized as an SCP member within the support system and provided an enhanced support experience
The above is taken from the SolarWinds Certified Professional FAQ page.
Prosperon has been providing SolarWinds training courses on the complete SolarWinds Orion platform for many years now, with attendees taking the SCP exam. We previously had a pass rate in excess of 85%. Working closely with SolarWinds, we have updated the course to ensure that the content is aligned to meet the needs of user's operational use of the application/s, but also to help them with the level of knowledge required to take and pass the SCP exams.
All attendees of our qualifying training courses will include within the course cost the choice of one of the SCP exams. This provides a $200 saving if purchased separately.

Mark Roberts
Technical Director
Mark Roberts is the Technical Director at Prosperon Networks and a SolarWinds MVP. Mark has been helping customers meet their monitoring needs with SolarWinds IT Management Solutions for over 14 years.
Training Course: SolarWinds Training Courses
Related Insights From The Prosperon Blog
In this webinar, you will discover how to get more out of SolarWinds® by going beyond default settings. This webinar examines how to improve the efficiency of your...
read more