webinar: SolarWinds Security Incident Review & What To Do Next To Protect Your Platform
How to protect your organisation following the SolarWinds security compromise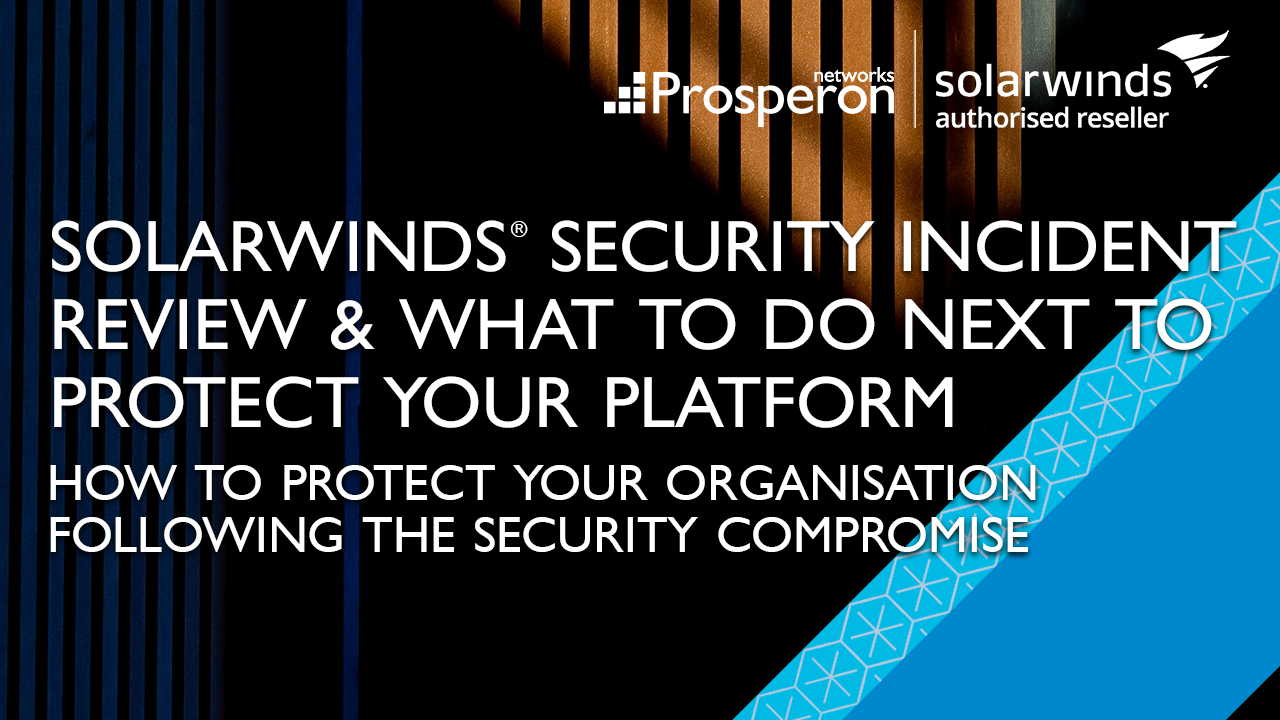 What To Do Next To Protect SolarWinds
In this FREE Webinar on Thursday 7th January, you will discover how to protect your company following the SolarWinds® security incident.
Learn more about the security vulnerability within Orion®, and how to apply the SolarWinds security remediation to compromised platforms. Discover how to efficiently manage SolarWinds upgrades and patches using best practice upgrade guidance. Finally, explore what action can be taken to improve overall SolarWinds security and prevent future security incidents and breaches. A Senior SolarWinds Engineer & SolarWinds THWACK MVP will be leading this session, and will answer your questions in a live interactive Q&A session.
SolarWinds Security Incident Review & Official Advice
Explore what versions were affected, and the official advice on remediations depending on the version you're running.
Best Practice Advice On Upgrading & Upgrade Preparation
Understand the upgrade process, including advice for planning upgrades, preparation, and the delivery of the upgrade.
Best Practice Advice On Improving SolarWinds Security
Manage anti-virus exclusion changes, limit internet access, manage privilege access, monitor schema changes, and more.
Mark Roberts is the Technical Director at Prosperon Networks and a SolarWinds MVP. Mark has been helping customers meet their monitoring needs with SolarWinds IT Management Solutions for over 14 years.
As the Sales Manager at Prosperon, Mon is passionate about helping customers overcome their operational challenges, and achieve success and satisfaction with the products and services that Prosperon provides.
Thursday, 7th January 2021
11:00 am to 12:00 pm GMT
Network Administrators
Interested in learning how to identify compromised SolarWinds versions, how to apply the remediation to affected versions, and how to improve SolarWinds security using best practice advice.
IT Security Managers
Interested in learning more about the SolarWinds security incident, how the vulnerability could have exploited, and what can be done to protect themselves them a similar supply chain attacks.
Infrastructure Managers
Interested in learning how to keep SolarWinds up-to-date and secure by efficiently managing upgrades using best practice upgrade advice.

Prosperon Networks are the UK's leading provider of SolarWinds IT management solutions and services. We have been an Authorised SolarWinds Partner for over 14 years, and all of our Engineers are SolarWinds Certified Professionals (SCP). Over this time we have provided consulting, support, and training services to hundreds of SolarWinds customers across the UK and Europe.