webinar: Is SolarWinds Delivering What Your Business Really Needs?
How to get more out of SolarWinds by going beyond default configurations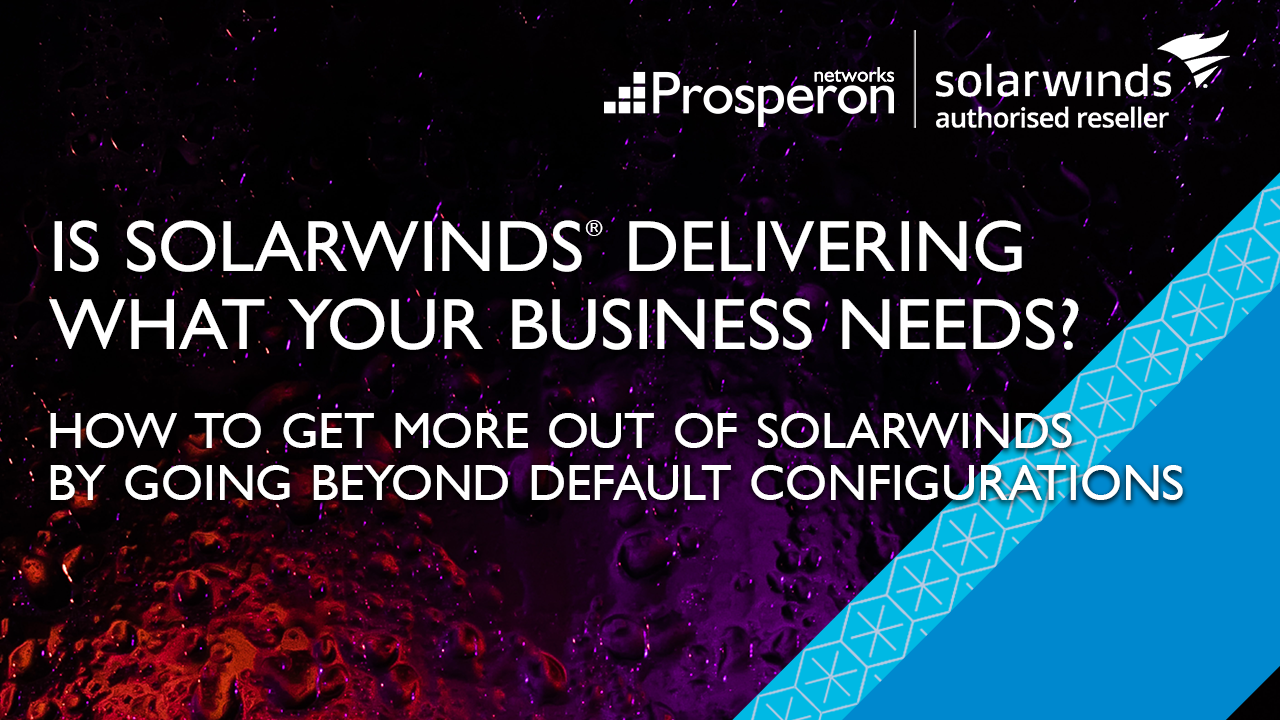 Is SolarWinds Delivering What You Need?
In this FREE Webinar on Thursday 18th February, you will discover how to get more out of SolarWinds® by going beyond default settings.
Learn how to improve the efficiency of your SolarWinds platform by benchmarking your settings against best practice configurations. Discover how to customise and fine-tune common configuration areas such as alerts, reports and views, beyond out-of-the-box defaults. Finally, explore how to assess your organisations true IT Monitoring requirements to better align SolarWinds to your business's needs. A Senior SolarWinds Engineer & THWACK MVP will be leading this session, and will answer your questions in a live interactive Q&A session.
Benchmark Your SolarWinds Platform Against Best Practices
Review commonly seen performance improvement areas that can enhance the performance and efficiency of SolarWinds.
Compare Default Settings Vs. Customisation & Fine Tuning
Explore how some common default configuration areas can be improved; including how to use custom properties and groups.
Analyse What Your Business Needs From SolarWinds
Examine what your organisation, users, and technology really needs from your SolarWinds platform, and how to achieve it.
Mark Roberts is the Technical Director at Prosperon Networks and a SolarWinds MVP. Mark has been helping customers meet their monitoring needs with SolarWinds IT Management Solutions for over 14 years.
As an Account manager at Prosperon Networks, Scott spends his time helping customers to optimise their IT Management capabilities, as well as keeping them up-to-date with the latest technologies and products.
Thursday, 18th February 2021
11:00 am to 12:00 pm GMT
Network Administrators
Interested in learning how to benchmark their SolarWinds platform against best practices to identify areas of improvement. Additionally, Network Administrators that want to examine how to fine-tune and make common customisations to default settings, to better align SolarWinds to the needs of their organisation.
Infrastructure Managers
Interested in learning how to determine what they need from their IT Monitoring solution; and how Prosperon can help them harness the power of SolarWinds to better deliver on their requirements.

Prosperon Networks are the UK's leading provider of SolarWinds IT management solutions and services. We have been an Authorised SolarWinds Partner for over 14 years, and all of our Engineers are SolarWinds Certified Professionals (SCP). Over this time we have provided consulting, support, and training services to hundreds of SolarWinds customers across the UK and Europe.