Important Announcement: Applying SolarWinds Orion Remediation To Vulnerability
Following the identification of security vulnerabilities Sunburst and SuperNova, SolarWinds® have released an update patch in order to address these vulnerabilities. If you are on one of the following three SolarWinds Orion versions, you are recommended to immediately upgrade the platform to a patched version appropriate for your installed version. The following table provides the guidance
Orion Platform Version
Known Affected By Sunburst?
Known Vulnerable To SuperNova?
Recommended Action
Direct Link
2020.2.1 HF 2
No
No
No action needed
N/A
2020.2.1 HF 1
No
Yes
Upgrade to 2020.2.1 HF 2
Customer Portal
2020.2.1
No
Yes
Upgrade to 2020.2.1 HF 2
Customer Portal
2020.2 HF 1
Yes
Yes
Upgrade to 2020.2.1 HF 2
Customer Portal
2020.2
Yes
Yes
Upgrade to 2020.2.1 HF 2
Customer Portal
2019.4 HF 6
No
No
No action needed
N/A
2019.4 HF 5
Yes
Yes
Upgrade to 2019.4 HF 6
(or upgrade to 2020.2.1 HF 2)
Customer Portal
2019.4 HF 4
No
Yes
Upgrade to 2019.4 HF 6
(or upgrade to 2020.2.1 HF 2)
Customer Portal
2019.4 HF 3
No
Yes
Upgrade to 2019.4 HF 6
(or upgrade to 2020.2.1 HF 2)
Customer Portal
2019.4 HF 2
No
Yes
Upgrade to 2019.4 HF 6
(or upgrade to 2020.2.1 HF 2)
Customer Portal
2019.4 HF 1
No
Yes
Upgrade to 2019.4 HF 6
(or upgrade to 2020.2.1 HF 2)
Customer Portal
2019.4
No
Yes
Upgrade to 2019.4 HF 6
(or upgrade to 2020.2.1 HF 2)
Customer Portal
2019.2 HF 3
No
Yes
Upgrade to 2020.2.1 HF 2
(or apply 2019.2 HF 3 Security Patch)
2019.2 HF 2
No
Yes
Upgrade to 2020.2.1 HF 2
(or upgrade to 2019.2 HF 3 AND apply 2019.2 HF 3 Security Patch)
2019.2 HF 1
No
Yes
Upgrade to 2020.2.1 HF 2
(or upgrade to 2019.2 HF 3 AND apply 2019.2 HF 3 Security Patch)
2019.2
No
Yes
Upgrade to 2020.2.1 HF 2
(or upgrade to 2019.2 HF 3 AND apply 2019.2 HF 3 Security Patch)
2018.4
No
Yes
Upgrade to 2020.2.1 HF2 (or ensure you are running 2018.4 HF3 AND apply the 2018.4 HF3 Security Patch)
2018.2
No
Yes
Upgrade to 2020.2.1 HF2 (or ensure you are running 2018.2 HF6 AND apply the 2018.2 HF6 Security Patch)
All Prior Versions
No
Yes
Upgrade to 2020.2.1 HF 2, apply temporary mitigation script, or discontinue use
Due to the nature of the Sunburst attack, where the code was hidden within genuine application files and function, it is difficult to determine if your environment has been truly compromised. This may be determined through an intensive review of your SIEM tooling for events that could indicate that unexpected activity has occurred. Such a review should be focused on the use of privileged accounts, unaccounted change, and access to the known central command domains for signs of misuse.
Identification of the SuperNova malware is easier, as this requires a file to be placed by a 3rd party actor into your genuine Orion file structure. If this exists, again cleansing and forensics reviews of compromise are advised.
SolarWinds have updated their Incident Advisory page and also added an FAQ page to assist with any questions you may have.
Decisions to Make
To bring your platform to a level where the vulnerability is removed, based on your installed version being one of those affected, this will require an upgrade activity. There are two principle avenues to take for performing the upgrade:
In place upgrade

Apply the HotFix only – suitable if you are on 2020.2.1 or 2019.4 HF5
Follow the standard upgrade procedures for a full upgrade

Upgrade Migration

Provision new Orion application servers and install the upgrade on these

Rebuild

Start with fresh application servers and blank database
The migration option will mitigate any potential risk of compromise, by reinstalling Orion on fresh servers, which are inherently clean. The process for this option is not much different to the upgrade, other than the provision of new servers.
We feel that a manual review of the Orion SQL databases can be performed to mitigate risk, so this option can be avoided.
Review any database Schema changes made (Database monitoring tools can provide this)
Manual review of areas of the DB that could be used to re-execute malicious code;

Alerting Engine, Stored Procedures, SAM script based monitors, NCM scripts
Upgrade Advice
If you have previously taken our and SolarWinds advice and disabled Internet access to your Orion server, to perform the upgrades there are two options: centralised upgrade via the web interface of Orion; or the offline installer.
Clearly for the first option to be viable, it is necessary to allow Internet access for which the following URL's need to be allowed as white list entries:
https://downloads.solarwinds.com
https://api.solarwinds.com 
https://installer.solarwinds.com
https://licenseserver.solarwinds.com
https://licensestatusserver.solarwinds.com
The centralised upgrade via the Orion web UI is the quickest and easiest method to perform a full upgrade, as Orion will effectively self-manage the upgrade and automatically upgrade any scalability engine servers you may have i.e. Additional Polling Engines and Additional Web Servers.
If your installation is fully isolated the offline installer can be downloaded. This is a single file which can be used on all of the role servers. It is necessary to upgrade the Primary Orion server first, then each of the additional role servers, on which the installation can be executed concurrently.
Overview of actions
Prepare the environment

Provision new servers if selecting the Upgrade Migration approach
Update security devices to allow the above URL's if you wish to perform a Centralised upgrade via the Orion web UI
Perform a backup of the Orion SQL databases

Orion Core (default name SolarWindsOrion)
Orion Logs (default name SolarWindsOrionLog)
Orion NetFlow (if you own this licensed module, default name SolarWindsFlowStorage)

Perform a snapshot or machine image backup of the application server/s

Perform the pre-flight checks in the Orion web UI

Log in with Admin account
Navigate to Settings > My Orion Deployment > Updates and Evaluations
Resolve any actions that are listed here before you begin the actual upgrade

Within this same screen, it is also advised to pre-stage the files, so the upgrade when the request is made will apply immediately

This is a step that requires the controlled Internet access

For the Offline installation it is highly recommended to perform this by logging in to the Orion servers using a Local Administrator account, and not a domain based account
If you are performing a migration, then it is advised to use temporary IP address (assuming your live platform is still active) to build the new servers and then change the IP to the production IP's when the current server is shutdown

If you are keeping new IP addresses, then your security policies for firewalling/ACL rules will need to be updated to reflect the new polling sources. Also Netflow, Syslog and SNMP Trap destination configurations will need to be updated to point to the new IP addresses
If performing the offline installation method, the files can be downloaded from the SolarWinds Customer Portal for which two options exist:
If you are running 2020.2.1, then you can apply the smaller HotFix 2 patch
If you are running 2019.4 HF5 or 2020.2 then the full version upgrade can be applied
Rather than performing an upgrade, if you are running 2019.2 or below, the specific Security Patches can be applied for your version.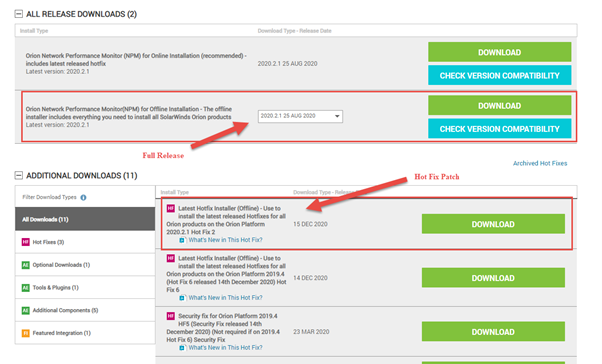 Mark Roberts
Technical Director
Mark Roberts is the Technical Director at Prosperon Networks and a SolarWinds MVP. Mark has been helping customers meet their monitoring needs with SolarWinds IT Management Solutions for over 14 years.
Important Annoucement: SolarWinds Security Alert
Related Insights From The Prosperon Blog
In this webinar, you will discover how to leverage the new dashboards framework in SolarWinds® Orion® 2020.2. This webinar examines how to increase your visibility and...
read more