New Product Annoucement: Web Help Desk from SolarWinds
The choice SolarWinds® have made for the acquisition includes not just the help desk ticketing functionality, but also inventory management, change management process control and knowledge base giving a nicely rounded and highly complementary solution to the rest of the SolarWinds product range. With the level of features that are included within the single solution, this very much helps an organisation work within the ITIL best practice framework.
Web Help Desk Key Features:
Service Requests
Help Desk Management
Asset Management (CMDB)
Service Level Agreement (SLA)
Knowledge Base Management
Approval & Change Management
Reporting
We at Prosperon have integrated Orion with a number of ticketing systems over the years, which has predominantly focused on getting event-based information out of Orion and into the ticketing system. This clearly will be related to alert conditions more than anything, whereby alert conditions identified by Orion such as a Node is down, a key interface is being saturated, etc. are pushed our by Orion and the ticketing system automatically raise a new ticket.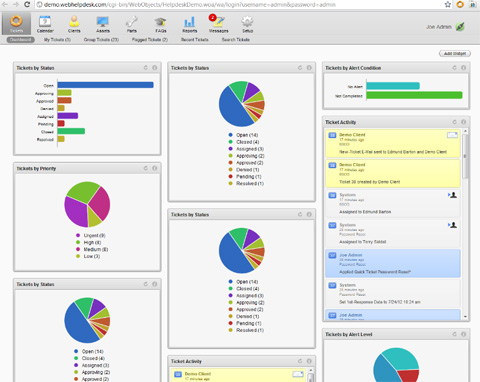 This is very straightforward within Orion as it includes multiple alert action types with multiple protocols supported meaning that so far we have not been faced with having to tell a client it can't be done. However, there are many scenarios that have to be thought about and included in the strategy for integrating to helpdesk solutions; which alerts to raise a ticket on, whether to auto-close tickets and how this can be achieved for example.
With the addition of a help desk solution in the SolarWinds suite, the level of intelligent integration will only increase.
Training Course: SolarWinds Training Courses
These are exciting times as SolarWinds continue their growth into further areas of IT infrastructure management, so to see how Web Help Desk can benefit your organisation, whether you have an existing SolarWinds solution or not contact us today.

Matt Crane
Director of Sales & Marketing
Matt Crane is the Director of Sales & Marketing at Prosperon Networks. Matt has years of experience working with SolarWinds customers and prides himself on delivering solutions that meet the needs of customers.
Training Course: SolarWinds Training Courses
Related Insights From The Prosperon Blog
We have all had an application or service that runs away with itself and consumes all of the compute resource on a server, where you know that a simple restart of the...
read more