The Implication of the New SolarWinds Netflow v4
Some new SolarWinds® releases come along and you sit there and think whether it is worthwhile to upgrade or not. This whole number version release of NTA is an architectural update rather than any significant feature additions and as such needs very careful review!
Whats New:
DRAMATICALLY improved performance and one-minute data granularity
This provides and NetFlow Analysis Platform which gives more detailed information, over a longer period of time and with a faster web page and report load times.
Improvements with the Web Interface
Reporting has been migrated to the Web based reporting engine with 14 brand new report.

All very good news and for those of you processing larger volumes of Flow data this will be a major driver to upgrade.

However, to allow the level of performance increase (we are talking multiples) something had to change in the database structure. A relational database such as MS SQL is simply not suited to this type and volume of data.SolarWinds have therefore re-engineered the NetFlow application to store Flow data within a Fast Bitmap database, which is a separate database to the SQL database used by NPM.

This is the essential piece; the existing NPM database remains, but the flow data is stored in a separate database called the Flow Storage database. This for smaller installations can 'potentially' be on the NPM application server but a dedicated Flow Storage database is recommended.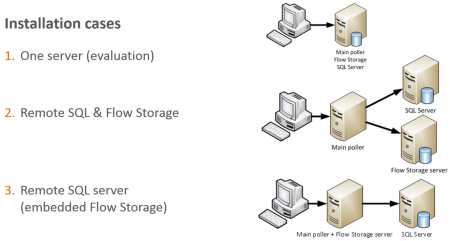 If you have an existing installation of NetFlow or are considering the SolarWinds NetFlow solution, get in touch with one of our engineers if you need any advice.
Key Considerations:
Recommended to provision a new server for the Flow Storage database – this can be a physical or virtual machine;

Less than 5,000 Flows/sec

4 cores @ 3GHz CPU
8-16GB RAM

Greater than 5,000 Flows/sec

8 cores @ 3GHz CPU
16-32GB RAM

Flow Storage Database requires a 64-bit server, as does the Orion application servers. If your current platform is based on 32-bit OS then this will require an OS and application rebuild
NPM platform must be at version 10.6 in order to upgrade or install Netflow V4
Due to new capabilities a rough rule of thumb states that 100GB of storage space is required for every sustained 1000 Flow/sec based on a 30 day retention period

For Flow capture rates in excess of 5000 Flows/sec we recommend you contact us to assist with Storage capacity analysis
Migrating existing Flow data into the new architecture will grow the database very quickly and, therefore, understand how much required space is critical
Data storage requirements for very large installations can now exceed 2 Terrabytes of storage space

Flow Storage database must be installed prior to upgrading/installation NTA. A single installer is provided, which will include the option during the installation wizard on the components to install
It is NOT recommended to install the Flow Storage database on the same server as the Orion SQL database
Communication flow requires:

Flow Storage server to MS SQL Server port 1433 (TCP) open
All Orion poller servers to Flow Storaeserver port 17777 (TCP) open

Existing Netflow reports will need to be rebuilt in the new Web-based reporting engine
As you can probably tell, this is a significant change to the architecture of the SolarWinds NetFlow application and the upgrade cannot be performed without careful planning.
Training Course: SolarWinds Training Courses

Mark Roberts
Technical Director
Mark Roberts is the Technical Director at Prosperon Networks and a SolarWinds MVP. Mark has been helping customers meet their monitoring needs with SolarWinds IT Management Solutions for over 14 years.
Training Course: SolarWinds Training Courses
Related Insights From The Prosperon Blog
In this webinar, you will discover how to leverage the new dashboards framework in SolarWinds® Orion® 2020.2. This webinar examines how to increase your visibility and...
read more