webinar: The Power of SolarWinds Customisation – Advanced SolarWinds Reports
Enhancing Your SolarWinds Platform Using Advanced Custom Reports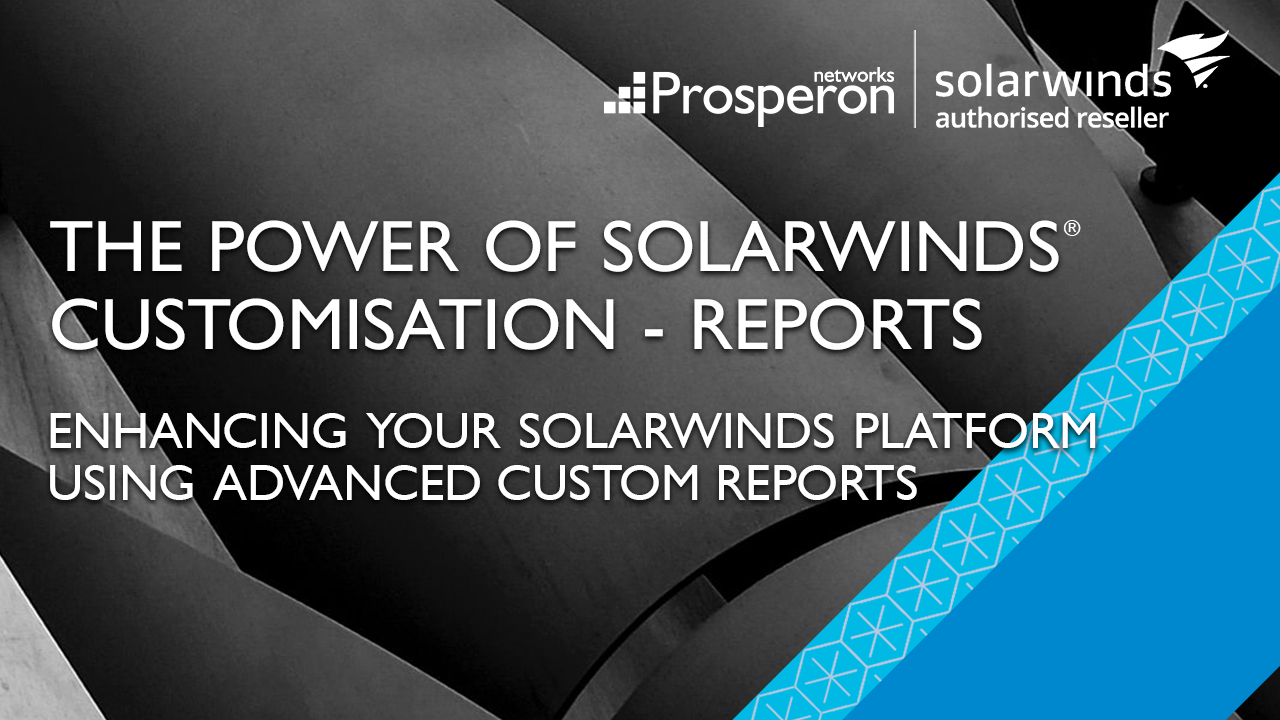 Advanced SolarWinds Reports Webinar
In this FREE Webinar on Thursday 8th April, you will discover how to enhance your SolarWinds® platform using advanced custom reports.
Learn how to improve reporting efficiencies by going beyond out-of-the-box reports. Discover how to increase device visibility using enhanced node management techniques; and report on credentials in use within NPM & SAM. Finally, explore how to strengthen reporting data accuracy using powerful custom reporting filters. A Senior SolarWinds Engineer will demonstrate how to implement these advanced reports and will even share the custom code and resources you need to import the reports into your own SolarWinds platform. Register your place now.
Enhanced Node Discovery & Management Using Reports
Fine-tune automatic discoveries, enhance node reporting, and leverage reports to trigger advanced node management actions.
Report On Credentials In Use Within SolarWinds NPM & SAM
Accurately provide single access to information on what credentials are in use, and what devices they are assigned to.
Use Time & Date Filters Within SolarWinds Reports
Go beyond default SolarWinds filters to enhance decision-making using reports that cover defined periods of time.
Abdullah is a Senior SolarWinds Field Engineer at Prosperon Networks. As a SolarWinds Engineer for over two years, Abdullah has helped hundreds of customers meet their IT monitoring requirements with SolarWinds.
As an Account manager at Prosperon Networks, Scott spends his time helping customers to optimise their IT Management capabilities, as well as keeping them up-to-date with the latest technologies and products.
Thursday, 8th April 2021
11:00 am to 12:00 pm BST
Network Administrators
Interested in learning how to leverage advanced customisation techniques to optimise and improve SolarWinds reporting, beyond what is achievable out-of-the-box. Additionally, Network Administrators who want to understand how dashboard and reporting training offered by Prosperon can improve their knowledge and skills, to use SolarWinds more effectively.
Infrastructure Managers
Interested in exploring how SolarWinds can be customised to provide more information about the organisations Network and IT Infrastructure; and/or want to explore how Prosperon can help to maximise their organisation's investment in SolarWinds with Training Services, Consultancy Services and Support.

Prosperon Networks are the UK's leading provider of SolarWinds IT management solutions and services. We have been an Authorised SolarWinds Partner for over 14 years, and all of our Engineers are SolarWinds Certified Professionals (SCP). Over this time we have provided consulting, support, and training services to hundreds of SolarWinds customers across the UK and Europe.