Webinar: Full Stack Application Monitoring with SolarWinds
How to Monitor Application Health & Performance across the Application Stack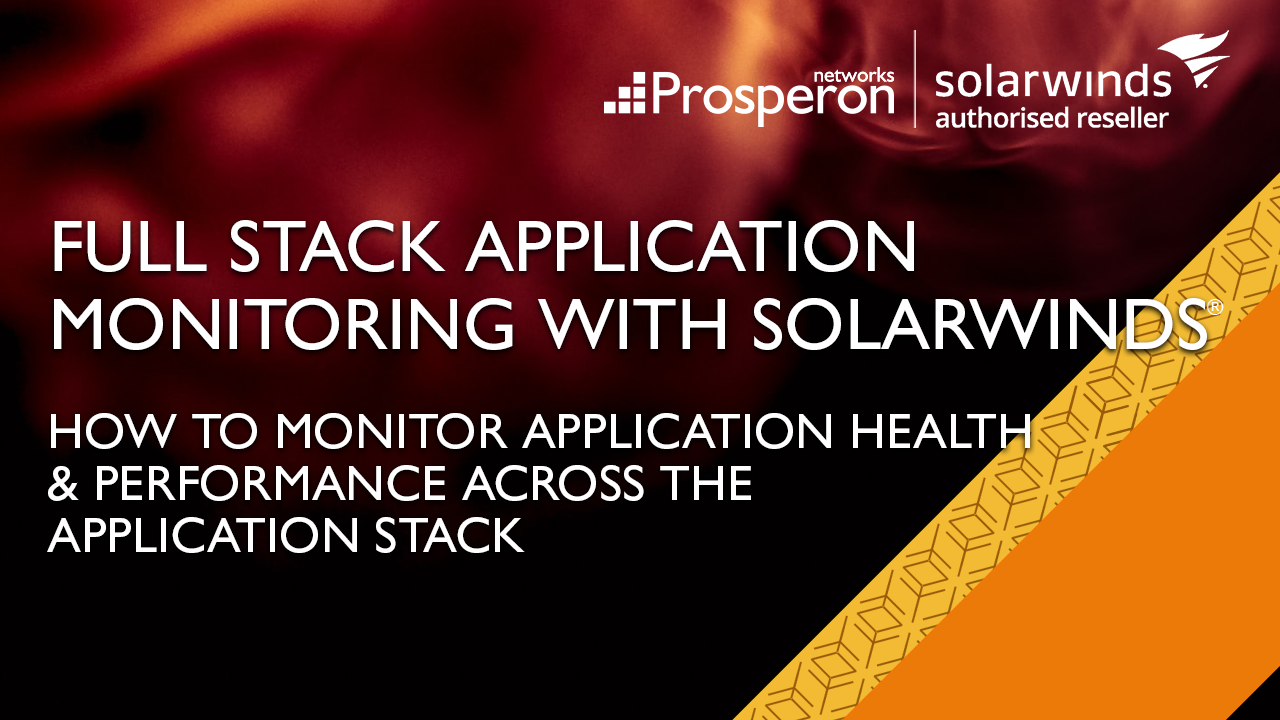 SolarWinds Full Stack App Monitoring
In this FREE Webinar on Thursday 17th June 2021, you will discover how to monitor application health and performance across the stack with SolarWinds® System Management portfolio.
Learn how to gain visibility across your application environment from servers, virtualised infrastructure, storage and database layers. Discover how to troubleshoot and speed up resolution times by correlating application performance metrics from multiple sources on a single drag-and-drop chart. Explore how to accelerate application performance by removing infrastructure bottlenecks. Our Senior SolarWinds Engineer will provide live demonstrations, and will host an interactive Q&A session.
Gain Deep Visibility Across All Application Layers
Visualise the relationship between applications and underlying IT infrastructure layers with intuitive application dependency maps.
Correlate Cross-Stack Application Performance Metrics
Accelerate application resolution time by comparing network, systems, database and storage data on a single timeline.
Quickly Eliminate Infrastructure Related Application Issues
Identify the metrics required to understand infrastructure health, and underlining infrastructure can impact performance.
Mark Roberts is the Technical Director at Prosperon Networks and a SolarWinds MVP. Mark has been helping customers meet their monitoring needs with SolarWinds IT Management Solutions for over 14 years.
As an Account manager at Prosperon Networks, Scott spends his time helping customers to optimise their IT Management capabilities, as well as keeping them up-to-date with the latest technologies and products.
Thursday, 17th June 2021
11:00 am to 12:00 pm BST
System Administrators
Interested in learning how to prevent System downtime with a single view of the entire application stack, and how to accelerate application troubleshooting and resolution times across various technology silos (Network, Systems, Virtualisation, Storage, and Database) with SolarWinds PerfStack.
Application Managers
Interested in learning how continuous application monitoring and end-to-end visibility of applications and underlining IT infrastructure, can help to identify and troubleshoot application performance issues before end-users are impacted.
Database Administrators
Interested in learning how to eliminate database problems faster, and/or how to optimise and fine-tune database performance to accelerate application performance.

Prosperon Networks are the UK's leading provider of SolarWinds IT management solutions and services. We have been an Authorised SolarWinds Partner for over 14 years, and all of our Engineers are SolarWinds Certified Professionals (SCP). Over this time we have provided consulting, support, and training services to hundreds of SolarWinds customers across the UK and Europe.