SolarWinds Health Check Services
Keep you SolarWinds platform performing at optimum levels with Prosperon comprehensive health check review.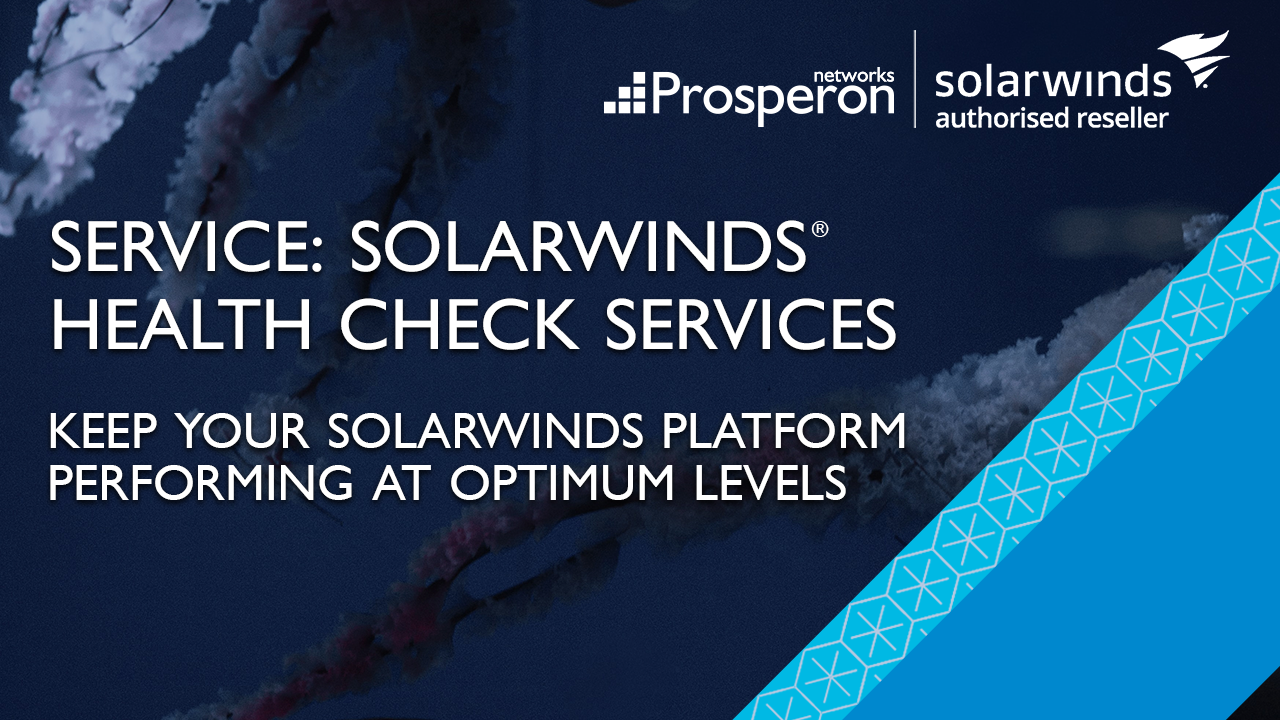 SolarWinds Health Check Services
Prosperon's Health Check Services are designed to help ensure that your SolarWinds® platform is performing at optimum levels. A healthy platform that is fine tuned is better equipped meet your monitoring needs.
Our Health Check provides a comprehensive review of all aspects of your SolarWinds platform. The underlining architecture, how SolarWinds was deployed, configurations, and even how your staff are using the platform are all assessed against best practices. On completion, a detailed report is provided, highlighting issues and areas of improvement. An action plan based-on our recommendations is then discussed with your team, to help improve your platforms health and optimise the performance.
Is your SolarWinds platform healthy?
Improve The Health, Performance & Scalability Of Your SolarWinds Platform 
If not properly maintained, your SolarWinds platform may not be performing at optimum levels. This can lead to you missing key monitoring events and expensive downtimes in serious cases.
Prosperon's SolarWinds Health Check review examines whether the platform is effectively meeting your organisations existing and future needs. By undertaking an in-depth platform assessment we can identify problems such as deployment and configuration issues. An action plan of recommendations is provided to restore the health of your platform, use it to the best of it's abilities, and ensure it scales to meet future demands.
Keep SolarWinds Performing At Optimum Levels
Identify and remediate key deployment and configuration issues, to restore the health and performance of your SolarWinds platform; and meet your organisations needs.
Ensure SolarWinds Can Scale To Meet Future Needs
Guarantee that SolarWinds and it's underlining architecture is correctly configured and provisioned to ensure SolarWinds can expand to meet your future monitoring demands.
Identify & Fix Weak Configurations Within SolarWinds
Assess existing configurations against best practices, and identify where improvements can be made to better utilise SolarWinds to meet your montioring needs.
Use SolarWinds As A Proactive Monitoring Solution
Prosperon have a dedicated Account Management team to ensure you are getting the most out of SolarWinds, and a Customer Services team to deal with license renewals.
Configure & Fine Tune SolarWinds To Better Meet Your Organisations Monitoring Needs
SolarWinds users might not always be aware of areas that can be improved; specifically around alerts, grouping, dashboards and reports. Our Health Check review captures all the weak configurations that are either not best practice or not aligned to your monitoring goals. We detail how to improve them – and can even help implement them if required.
Monitoring requirements change frequently, as does you IT environment. It is therefore important to periodically review existing configuration; ensuring that they are fine tuned and optimised to provide the data and visibility needed to meet your organisations existing and future needs.
SolarWinds Health Check Areas
What's included in Prosperon's Health Check review for SolarWinds?

Baseline Analysis of Deployment
Analyse the underlining architecture of the environment hosting your SolarWinds Orion platform. Reviewing how the platform was initiallly installed and customised.

Performance & Stability Review
Identify if any components that make up SolarWinds are affecting the systems performance and stability. Assess the levels of performance required for a healthy platform. 

Architecture Optimisation Assessment
Examine what, where and how improvements can be made to optimise the architecture of your SolarWinds platform; to improve performance and stability.

Resources & Training Assessment
Understand what additional resources and training requirements your internal staff need, in order to utilise SolarWinds proactively and maximise it's benefits to your organsiation.
Detailed Health Check Report
Receive a comprehensive report detailing all of the finding of your Health Check review. Quickly identify issues with your SolarWinds platform that need to be addressed.

Health Restore Action Plan
Review Prosperon's professional recommendations for how issues identified should be resolved to restore your SolarWinds platform to optimal operational efficiency.

Prosperon Networks are the UK's leading provider of SolarWinds IT management solutions and services. We have been an Authorised SolarWinds Partner for over 14 years, and all of our Engineers are SolarWinds Certified Professionals (SCP). Over this time we have provided consulting, support, and training services to hundreds of SolarWinds customers across the UK and Europe.
Frequently Asked Questions
Can't find the answer to your questions? Why don't you give us a call and our helpful Account Managers will answer any question you have.
Will we have any interruption of service during the Healthcheck?
No configuration changes are made to your platform during the review. We conduct a review of SolarWinds only, so there will be no service disruption.
Can Prosperon review areas of specific concern that we are already aware of?
Yes, we like to hear from users as to where the problems are. We can be more specific in our analysis and improve the quality of feedback and recomendations.
What is the overall process for the providing the Health Check?
We ask for your feedback on any known issues. This is followed by a remote review of your platform. We then collate our results into a formal review document. 
Do you provide these services to other SolarWinds partners?
Yes, we have a dedicated channel team that work closely with SolarWinds partners/resellers, to meet the requirements of thier customers.