Webinar: SolarWinds Best Practices – Out Of The Box Vs. Custom SolarWinds Reports
How to enhance your SolarWinds platform by going beyond default reports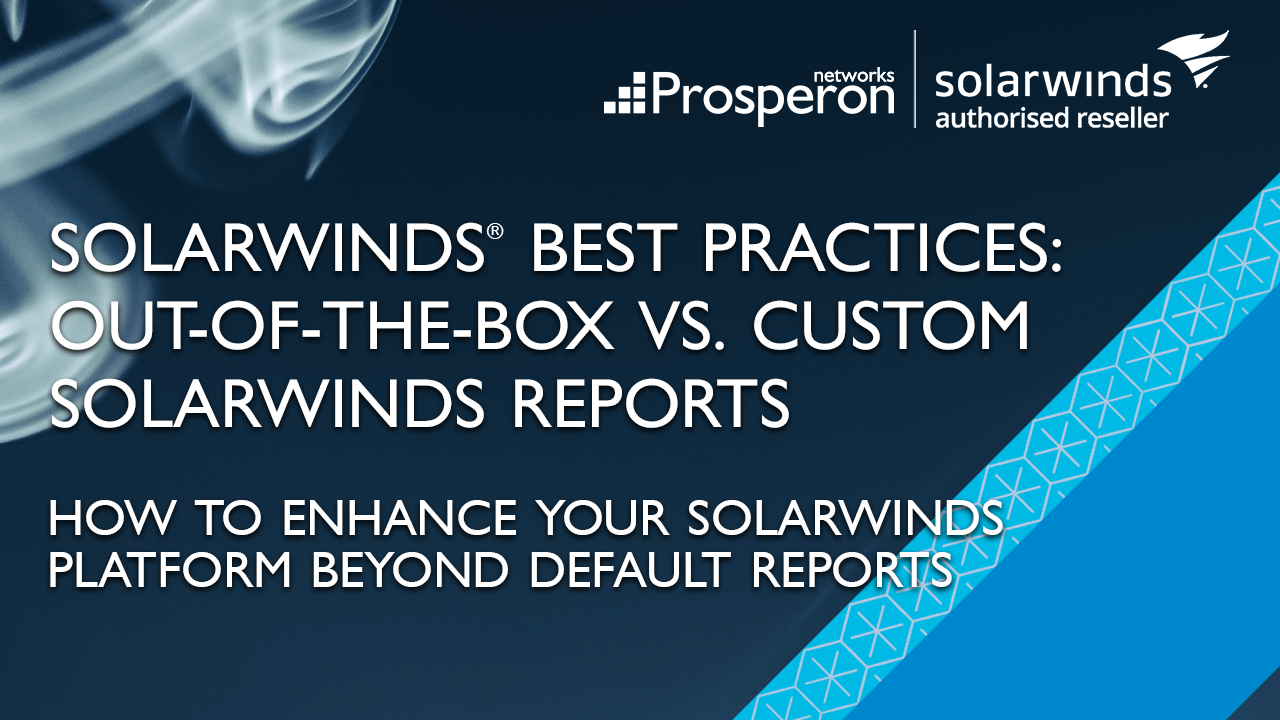 SolarWinds Best Practices – Custom Reports
In this FREE Webinar on Thursday 10th March, you will discover how to enhance SolarWinds® by going beyond default reports.
Learn how to improve the efficiency of your platform by going beyond out-of-the-box SolarWinds reports. Discover how advanced reports can help increase your visibility into performance issues, respond to challenges faster, and better plan future resourcing needs. Finally, explore how to leverage SolarWinds reporting best practices to create powerful custom reports that meet your business needs. A Senior SolarWinds Engineer will demonstrate real-world custom reporting examples for SLA reporting, compliance, operational analysis and forecasting.
Customise Out-of-the-Box SolarWinds Reporting Templates
Go beyond default reports using the Orion web UI and the reporting engine to enhance existing and build new reports.
Meet Internal & External Reporting Requirements
Discover how to display critical data metrics needed for SLA reporting, compliance, operational analysis and forecasting.
SolarWinds Reporting Best Practices & Expert Tips
Learn how SolarWinds reports can be enriched using custom properties, and how to create and send user-specific reports.
Mark Roberts is the Technical Director at Prosperon Networks and a SolarWinds MVP. Mark has been helping customers meet their monitoring needs with SolarWinds IT Management Solutions for over 14 years.
As an Account manager at Prosperon Networks, Darian spends his time helping customers to optimise their IT Management capabilities, as well as keeping them up-to-date with the latest technologies.
Thursday, 10th March 2022
11:00 am to 12:00 pm GMT
Network/System Administrators
Interested in learning how to leverage advanced customisation to optimise reporting beyond what is possible out-of-the-box; and how Prosperon's Consultancy Services can increase the overall efficiency and performance of your SolarWinds platform.
Infrastructure Managers
Interested in learning how SolarWinds can provide a more informative view of the organisation's Network and IT Infrastructure and provide more high-level business intelligence reports for the organisation's c-level executives.
IT Directors/Managers
Interested in exploring how Prosperon can help maximise their organisation's investment in SolarWinds with Training, Consultancy and Support services.

Prosperon Networks are the UK's leading provider of SolarWinds IT management solutions and services. We have been an Authorised SolarWinds Partner for over 16 years, and all of our Engineers are SolarWinds Certified Professionals (SCP). Over this time we have provided consulting, support, and training services to hundreds of SolarWinds customers across the UK and Europe.